Trayvon Martin: Parents call for shooter's arrest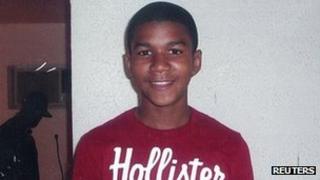 The parents of an unarmed black teenager shot dead by a neighbourhood watchman in the US state of Florida have called for the gunman's arrest.
"Police decided on scene to be the judge and jury," Sybrina Fulton, Mr Martin's mother, told NBC TV.
Trayvon Martin, 17, was killed by George Zimmerman, 28, while walking through a gated community in a suburb of Orlando, Florida on 26 February.
Mr Zimmerman says he was acting in self-defence and has not been arrested.
A Florida grand jury is considering whether there is enough evidence to file charges, and the US justice department has launched a probe into the conduct of the local police investigation.
However, further action could be complicated by a Florida self-defence law that allows the use of deadly force if a person "reasonably" believes they or another person are threatened with death or serious harm.
Astatement from Sanford City Manager Norton Bonapartecalls the death of Trayvon Martin a "tragic situation".
But he emphasised that officers of the Sanford police department were "prohibited from making an arrest based on the facts and circumstances they had at the time".
'Crazy to wait'
Speaking to NBC's Today programme, Tracy Martin, the victim's father, said the shooter was suspicious of his son "because he was young, black and with a hoodie".
Appealing for Mr Zimmerman to be prosecuted, he added: "Let the courts decide, but I strongly feel that he needs to be arrested."
The statement from Trayvon Martin's parents comes amid continuing public outcry against police handling of the case.
Appearing alongside Martin's parents, their lawyer Benjamin Crump said the shooter "needs to be arrested, prosecuted and convicted".
"Now, the state needs to do it. It's crazy that this family has to wait for grand juries and stuff when, if it was the other way around they would have arrested their son on the spot."
Trayvon Martin was unarmed and on his way home after buying sweets from a local shop, his parents say.
Mr Zimmerman has said he shot Mr Martin to defend himself after the teenager attacked him. Under the Florida law, known as "stand your ground", it is not always possible to arrest people who committed a crime while protecting themselves.
But civil rights protesters in Orlando, Florida, have gathered to demand that the state of Florida revoke Mr Zimmerman's licence to carry a gun,the Orlando Sun-Sentinel reports.
Meanwhile, in Sanford, where the shooting took place, the National Association for the Advancement of Coloured People (NAACP) held town hall meetings on Tuesday evening and Wednesday afternoon to gather stories from people who claim the police failed to properly investigate their cases.
On Wednesday night, Mr Martin's parents have said they plan to attend a march in New York - being dubbed the Million Hoodie March - memory of their son.