Paragliding Utah grandma, 101, breaks world record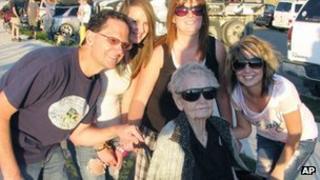 A great-great grandmother has become the oldest woman to do a tandem paraglide, after she took to the skies for her 101st birthday last year.
American Mary Hardison was inspired to give paragliding a go when her 75-year old son Allen took up the sport.
Guinness World Records confirmed that she had broken the record on Tuesday, beating a 100-year-old Cypriot woman.
"Just because you are old doesn't mean you have to sit on your duff all day," she told Reuters.
Ms Hardison flew with an instructor in September 2011 while four generations of her family cheered her on.
To celebrate her 90th birthday, she rode all of the adult rides at Disneyland. For her 102nd, she hopes to try out a mountain slide in her home state of Utah.
Ms Hardison told Associated Press: "My desire is for the elderly to keep on going. Do things as long as you are physically able. Be positive. Friends don't like a grumpy person."