Amelia Earhart: New Kiribati hunt for lost Lockheed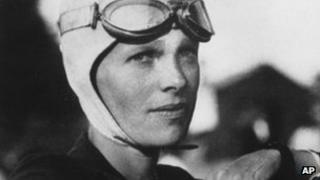 Explorers are to begin a new push to find the remains of famed aviator Amelia Earhart's long-lost plane.
Analysts say an old photo shows part of her doomed Lockheed Electra, and a July search is set for Nikumaroro island, part of Kiribati in the Pacific.
The search will be privately funded, but the US state department helped negotiate with Kiribati.
Earhart attempted to circumnavigate the globe along the equator in 1937, but disappeared in July of that year.
She and her navigator, Fred Noonan, left Papua New Guinea on a flight to Howland Island and were never seen again.
Ric Gillespie, executive director of The International Group for Historic Aircraft Recovery (Tighar), which will be organising the search, said the new evidence was "circumstantial" but "strong".
Previous searches for remains of the plane - and for Earhart and Noonan - have returned empty-handed, and many historians believe the plane crashed into the ocean.
'Unlikely heroine'
Robert Ballard, the oceanographer who discovered the wreckage of the Titanic and the Bismarck, is advising the Kiribati search.
He told the Associated Press that the photo allowed the search area to be narrowed from tens of thousands of square miles down to a small area.
Tighar - which has mounted several expeditions to the island in recent year - found bones on Nikumaroro during an earlier search, but lab tests were inconclusive on whether they were human bones.
US Secretary of State Hillary Clinton was among those showing their support at the official announcement of the new bid.
"Amelia Earhart may have been an unlikely heroine for a nation down on its luck, but she embodied the spirit of an America coming of age and increasingly confident, ready to lead in a quite uncertain and dangerous world," Mrs Clinton said.
"She gave people hope and she inspired them to dream bigger and bolder."
While the Obama administration takes no position on the evidence, Mrs Clinton noted that her department and other federal agencies had actively supported Earhart's quest.
"Even if you do not find what you seek, there is great honour and possibility in the search itself," she said.
Kurt Campbell, an assistant secretary of state for the region, took interest in the Kiribati search after his own trip there.
He said the department was optimistic but was not betting on finding the remains.
The United States is "encouraging, hoping, but frankly we don't know," Mr Campbell said.