Rallies held for slain Florida teenager Trayvon Martin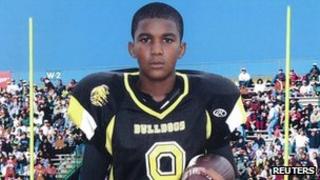 Students in Florida are rallying to demand the arrest of a man who shot dead an unarmed black teenager.
George Zimmerman gunned down Trayvon Martin as the 17-year-old was walking through a gated community in an Orlando suburb while visiting relatives.
Mr Zimmerman, 28, says he acted in self-defence. A 2005 state law allows deadly force if a person believes their life is in danger.
The incident has raised concerns among civil rights leaders.
Student rallies have been organised on Monday in front of a criminal court building in Sanford, the community where the shooting happened, and on the campus of Florida A&M University in Tallahassee.
Civil rights leader and television host Al Sharpton plans a rally on Thursday at a Sanford church.
'Real suspicious guy'
Martin's parents told reporters on Friday that they want the FBI to take over the case, as they no longer trust the Sanford police.
"I feel betrayed by the Sanford Police Department and there's no way that I can still trust them in investigating this crime," his father, Tracy Martin, said.
An FBI spokesman said the agency was "aware of the incident" and had been in contact with local authorities.
Mr Zimmerman, acting as a neighbourhood watch volunteer, had called police several times in the months before the shooting to report incidents.
He called police on 26 February, reporting there had been break-ins in the community, and that there was "a real suspicious guy" who "looks like he's up to no good".
When he said he was following the person he had identified as suspicious, the dispatcher said: "We don't need you to do that."
'Hysteria'
Martin was walking to a nearby store to buy confectionary for his brother when the incident happened, according to a family lawyer.
He lived in Miami with his mother and was visiting Sanford.
Therelease of emergency calls recordings, including two from neighbours during which screams and shots can be heard, have fuelled demands for a federal investigation.
Sanford police chief Bill Lee has rejected criticism of his department.
"The hysteria, the media circus, it's just crazy," Mr Lee told the Orlando Sentinel.
"It's sad for the city of Sanford, the police department, because I know in my heart we did a good job."
Mr Zimmerman's father, Robert Zimmerman,wrote a letter to the Orlando Sentineldenying his son had followed or confronted Martin.
He said his son was a "Spanish-speaking minority with many black family members and friends".
He called the portrayal of the younger Mr Zimmerman "false and extremely misleading".