David Cameron Washington visit leaves US media unmoved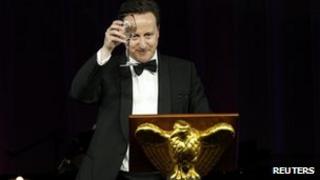 With no major policy announcements or diplomatic gaffes, US media coverage of David Cameron's visit to Washington was at least as focused on the style and the glamour as it was on the politics.
Thursday's Washington Post and New York Times splashed photos of the prime minister's visit on their front pages, but inside their writers appeared more concerned with dresses than diplomacy.
The Washington Post did lead with Mr Obama and Mr Cameron's comments on Syria,noting Mr Cameron's promise of new aid from Britain.
The visit as a whole, though, flew largely under the mass-market radar. Even Tuesday night's camera-ready visit to Ohio for a college basketball game failed to grab national attention.
"The visit, in contrast to Israeli Prime Minister Benjamin Netanyahu's tense reception last week, has been marked by the casual air between two men - "Barack" and "David," they call each other - who seem to genuinely get along,"Time notes.
"In fact, the trip has been so drama-free, it's hardly made news in the US. [Sports network] ESPN reported that Obama attended the basketball game, but declined to mention Cameron's presence."
Mr Cameron's words on the White House's South Lawn appeared not to be a high priority for CNN, which cut away from the prime minister's speech on Wednesday morning to discuss Mr Obama's remarks.
Left and right
For most, though, the state dinner on Wednesday night was real show-stopper, with the perennial dress comparison a key feature of much coverage..
The event was a mix of glamorous celebrities and Obama campaign donors,the New York Times reports.
"A seat at a state dinner is a relatively painless way for presidents to thank supporters and a time-honored perk of donordom. But Mr Obama has a particular large group of friends to thank: He has been holding fund-raising events at a far more rapid pace than his predecessors, hoping to build a cash advantage that will carry him to re-election."
Cable news network MSNBC judged the first ladiestied for the prize of best-dressed. George Clooney stole the show, seated at the head table with the Obamas and Camerons, and receiving a large portion of the press coverage.
After those festivities, the prime minister travelled north to visit New York City and Newark, New Jersey, where he met with Mayor Cory Booker. The New Jersey Star Ledgerreported from their walking tour around the city.
"He knew what was going on in Newark," Mr Booker said of Mr Cameron. "He asked specific questions about specific issues." Most major British cities are not run by elected mayors, and Mr Booker said the prime minister backed plans to change that.
With a wry sketch-writer's take on the visit, Dana Milbank of the Washington Postargues that the visithelps leaders on both sides of the Atlantic.
"British Prime Minister Tony Blair famously became President George W Bush's 'poodle' after he followed the United States into Iraq," Mr Milbank, a Post columnist, writes.
"Now it's the opposite relationship - an American politician from the left and a British prime minister from the right - but a similar dynamic is developing. This time, Cameron seems to be serving as Obama's guard dog, defending his American master against the Mitt Romneys and the Rick Santora."
Online, the enduring British fascination with the political relationship with Washington was put under a reverse-engineered microscope.
Writing for the Atlantic, Heather Horncriticises British journalistsfor their cynical take on Mr Cameron's trip on Air Force One, with the prime minister portrayed by some UK papers as just the latest British leader to be too-easily "seduced" by American power.
"But the suggestion that British prime ministers need to protect themselves from American glamor by staying in their own country seems a little much. This is Washington, not Vegas," she writes, before noting a lingering anger at the UK's Iraq war alliance with the US.
"In the decisions leading up to the Iraq war, I think it's fair to say Air Force One was not the biggest problem."