Tide detergent thefts 'funds US drug habits'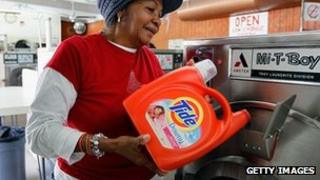 A US man suspected of stealing nine bottles of laundry detergent is being held on $1m bail in California.
The arrest is the latest in a nationwide string of detergent thefts that police say are being carried out to fund drug habits.
Thieves target Tide, a leading laundry liquid, because large bottles - which cost some $20 (£13) legally - have become a black market currency.
Shop workers are increasing security measures around their stocks of Tide.
In Washington DC, local branches of the nationwide pharmacy chain CVS have attached anti-theft tags to bottles.
One branch in the Dupont Circle area of the city keeps the bottles locked up behind glass, the Associated Press reported.
'Hot stuff'
In California, police in Orange County told the Los Angeles Times that the $1m bail was imposed on Ronald Ledesma, 54, after his attempt to make off with nine bottles of Tide ended in a car accident near the scene of the alleged crime.
He was arrested and charged with 10 counts of related commercial burglary, the newspaper reported.
Orange County sheriff's spokesman Jim Amormino said police were "somewhat baffled" by the Tide-stealing trend.
Ledesma, who has previous convictions for violent crime, was thought to be under the influence of methamphetamine at the time, which Mr Amormino linked to the pattern of thefts.
"Apparently it's used to sell on the street," he said. "They probably get enough to feed small-scale drug habits."
The Orange County incident is just the latest in a growing list of Tide thefts.
One Safeway supermarket in Maryland was losing thousands of dollars of stock each week before two dozen arrests were made.
And a man pleaded guilty in West St Paul, Minnesota, to stealing more than $6,000 of Tide from a Walmart branch. He spent 90 days in jail.
In Washington, one CVS employee said she and her colleagues were in no doubt about the brand's cachet among petty thieves.
"It's a hot item! It's gotten out of hand," Charlene Holton told the Associated Press.
"They usually take maybe four, whatever they can carry out the door.
A CVS spokeswoman said Tide thefts were a known issue, but the detergent's maker, Procter & Gamble, said they were in the dark about its notoriety.
"We don't have any insight as to why this has apparently happened, but if so, it is unfortunate," a spokeswoman told AP.