Texas voter ID law rejected by justice department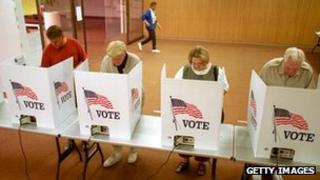 The US justice department has rejected a Texas voter ID law, amid concerns the measures could disenfranchise Hispanic voters.
Hispanics registered to vote in Texas are twice as likely as other groups to lack required photo ID, justice officials said.
The states of South Carolina and Wisconsin are also facing legal battles over their voter ID laws.
Texas officials say their law, approved in May 2011, aims to deter voter fraud.
In a statement, Texas governor and former presidential candidate Rick Perry said the justice department had "no valid reason for rejecting this important law, which requires nothing more extensive than the type of photo identification necessary to receive a library card or board an airplane".
Mr Perry says the move is another example of "the Obama administration's continuing and pervasive federal overreach".
A federal court in Washington will now decide if Texas, as well as South Carolina, can enforce their new voter photo ID measures.
Meanwhile, a judge in the state of Wisconsin on Monday issued an injunction against that state's stricter photo ID law for voters.
Missing voters
The justice department analysed two sets of data provided by the state and concluded that in both cases, requiring an ID card would disproportionately affect Hispanic voters.
According toan analysis by the Houston Chronicle, up to 2.3 million voters across the state could be affected.
Any change to voting rules in Texas, and 16 other states, must be federally approved because of a history of discrimination in those areas.
In January, the state sued US Attorney General Eric Holder in an attempt to defend the law.
In its decision, the justice department noted that one-third of counties in the state did not have offices to obtain a state-issued photo ID, with some residents living more than 100 miles (160km) away.
It also argued that the voter awareness process was incomplete.
The author of the bill, state Senator Troy Fraser, said in a statement that the law "puts into practice the intent of the current law - that the person who shows up at the polls is who he or she claims to be".
"Even the US Supreme Court has said that voter identification requirements are constitutional."
In 2008, the Supreme Court upheld a voter ID law in Indiana, while lower federal courts are mixed on the legality of individual state laws.
Map headaches
Critics of the original bill thanked the justice department for not approving the Texas law.
"The Voting Rights Act exists for this exact purpose: protecting the ability of all Americans to access the ballot box," state Senator Rodney Ellis said.
Mr Holder has vowed to enforce the Voting Rights Act, passed in 1965 to protect minority voters.
Texas has also battled in court over its redistricting map for the 2012 election year.
The state's population has grown by more than 20% since the last US Census, and its congressional districts must be redrawn to reflect the new population.
The US Supreme Court rejected a map from a lower court in January, and challenges to alternate plans are still undecided.
How Texas' map is drawn could decide whether four seats in the US House of Representatives are won by Republicans or Democrats in November's elections.