Canada tobacco companies sued in Quebec for $27bn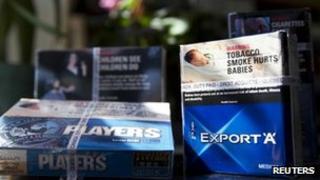 A Canadian class-action lawsuit that could cost three large tobacco companies up to C$27bn (£17.4bn) is set to begin in Montreal.
Two sets of smokers are arguing Imperial Tobacco, JTI-Macdonald and Rothmans Benson and Hedges manipulated nicotine levels and hid research on the health effects of smoking.
It is the largest suit of its kind brought before a Canadian court.
The trial opens as six provinces plan to sue the companies for health costs.
A similar suit in the US led to major tobacco companies paying $246bn over 25 years for health-care costs.
Tobacco giants
The largest of the two Canada class actions seeks C$10,000 in damages for each of the estimated 1.8 million Quebec residents who say they are unable to quit smoking.
That case is joined by a separate class of 90,000 complainants who have fallen ill with emphysema and cancer of the throat and larynx. They are suing for C$105,000 each.
One of the witnesses in the civil suit will be Robert Proctor, author of a book about the US tobacco industry, Mario Bujold, director general of the Quebec Council on Tobacco and Health told AFP.
The tobacco firms are expected to argue that consumers were informed of the risks of smoking.
The firms fighting the lawsuit are some of the world's largest tobacco companies.
Imperial Tobacco Canada is part of the British American Tobacco group, which has the second-largest market share in tobacco in the world.
In a statement, Imperial Tobacco called the various class action suits an "opportunistic cash grab" and said it welcomed the chance to "tell the entire story" of the Canadian tobacco industry.
JTI-Macdonald is Canadian subsidiary of Japan Tobacco International.
Rothmans Benson and Hedges, based in Canada, is owned by Phillip Morris International.