Another hammer blow to US-Afghan relations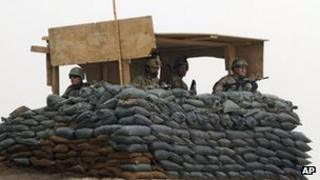 Decision makers will insist that one terrible and tragic event should not and will not change America's policy in Afghanistan. But the murderous attack by a rogue American soldier has given it a hard shove. A shove in the direction it was already going.
President Obama's policy is to withdraw most American troops by 2014. The defence secretary Leon Panetta has suggested they would end their combat role next year. An ABC poll, carried out shortly before this incident, suggests 60% of Americans believe the war was not worth fighting.
The shooting is another hammer blow to the already fractured relationship between the US government and the Afghan people and their government. It comes on top of the burning of Korans by US personnel and some Afghans' murderous retaliation.
This followed revelations about US Marines urinating on Afghan corpses. There is always a danger that dramatic high-profile events like these can give a misleading picture of a relationship or a trend. But my colleague Andrew North, returning to the country after a few years' absence, has written recently that "it is striking how much the mood has changed against the US and its allies".
At the very least, these incidents and the Afghan reaction to them rather undermines the argument that by leaving with indecent haste the Americans will allow the country to descend into chaos. In these incidents at least, the Americans were the provocation, not the peacemakers.
So you will hear more voices raised in the United States, arguing that the withdrawal should be speeded up. Surprisingly, Republican candidate and all-round hawk Newt Gingrich has joined them. Former presidential candidate John McCain has weighed in on the other side, warning "anger and frustration" shouldn't lead to a quicker pull-out.
This killing spree won't, by itself, lead to a quickening of the pace of a pull-out. But it may mean less heed will be paid to those like Senator McCain who think the war is winnable and who think the troops should finish the job before they leave.