Wife uncovers husband's 'bigamy' on Facebook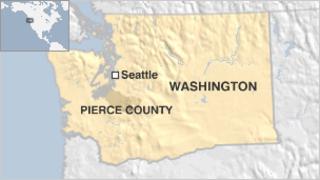 Two US women discovered they were married to the same man when one of them popped up on Facebook's "People you may know" feature, prosecutors say.
The man's estranged wife clicked on a link to his new partner's Facebook page to see them with a wedding cake, court documents in Washington state say.
The woman then contacted the man's mother - and later the authorities.
Prison officer Alan L O'Neill has been charged with bigamy and is due to appear in court later this month.
Court documents say that Mr O'Neill - under his previous name of Alan Fulk - married in 2001, moved out in 2009, changed his name and remarried without divorcing.
The first wife noticed Mr O'Neill had a new woman in his life when Facebook recommended her as a "friend".
"Wife number one went to wife number two's page and saw a picture of her and her husband with a wedding cake," Pierce County Prosecutor Mark Lindquist told the Associated Press news agency.
Wife number one then called the defendant's mother.
"An hour later the defendant arrived at (wife number one's) apartment and she asked him several times if they were divorced. The defendant said, 'No, we are still married'," the court records say.
The charges say that neither Mr O'Neill nor his first wife had filed for divorce.
Mr O'Neill allegedly told wife number one not to report his other marriage and that he would fix it, the court documents say. But instead she alerted the authorities.
"Facebook is now a place where people discover things about each other they end up reporting to law enforcement," Mr Lindquist said.
Mr O'Neill faces up to a year in jail if convicted.