Canada faces nationwide injectable drug shortage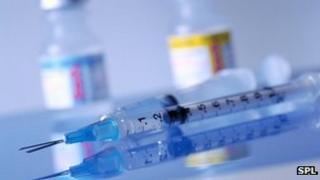 Canada faces a national shortage of key surgical drugs after a fire at a major manufacturing plant halted production.
Some 90% of injectable drugs used in Canada are reportedly made by the firm.
Hospitals have agreed to share drugs and are putting together contingency plans, but experts say plugging the supply gaps could take months.
Healthcare workers say stricter government regulation is needed to stop drug shortages from developing into crises that could put patients at risk.
Health officials in Canadian provinces have criticised the government's policy of making it voluntary for drug makers to warn of upcoming shortages,the Globe and Mail newspaper reports.
In February, Sandoz, which operates the Quebec factory damaged by fire last weekend, announced it would reduce or stop making some drugs in response to an order from US regulators to improve quality control.
'Little excess capacity'
The fire broke out at Sandoz's Boucherville plant in the Canadian province of Quebec at about 12:30 (17:30 GMT) on Sunday afternoon.
The drug manufacturer has saidthat production, which was temporarily suspended in the wake of the fire, will resume next week.
But healthcare practitioners, including HealthPro Canada, a bulk buyer that supplies medicines to a consortium of 255 Canadian hospitals, say it could be difficult to find alternative manufacturers for the drugs.
"There's very little excess capacity to produce pharmaceuticals across the world," Michael Blanchard, HealthPro's clinical director of pharmacy services,told the Edmonton Journal.
"The timelines to ramping up production are not short," Mr Blanchard added.
It is reported that it could take six months to a year for new inventory to become available.
Canada's federal health regulator said it was working with bulk purchasers to find new medicine suppliers, Stephane Shank, spokesman for Health Canada, told the BBC.
Health Canada is trying to connect hospitals with each other to share information and share supplies if necessary, Mr Shank said.
The US Food and Drug Administration order that Sandoz should suspend production of certain medicines was not affecting the current shortages in Canada, since those drugs were not for sale in the Canadian market, Mr Shank added.