Senate rejects plan to hasten decision on Keystone XL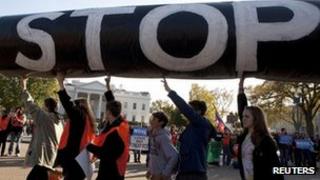 Democrats in the US Senate have voted down a Republican plan to hasten approval of an oil pipeline project.
Earlier, the White House put the plan on hold, saying it needed more time to assess the environmental impact of the $7bn (£4.4bn) Keystone XL project.
Supporters say the pipeline, which would run from Canadian oil sands to refineries in Texas, would create jobs and reduce US reliance on foreign oil.
The measure was part of a $109bn bill for funding transportation projects.
The Obama administration's decision not to approve the plan has been seized on by opponents.
This issue could be used to attack the president's energy policy during an election year, correspondents say.
'Unbelievable'
President Barack Obama is said to have called some Democratic senators personally, to ask them not to vote in favour of the measure.
The move was criticised by Republicans who said the president was lobbying against a plan that would generate employment.
"At a moment when millions are out of work, gas prices are sky-rocketing and the Middle East is in turmoil, we've got a president who's up making phone calls trying to block a pipeline here at home. It's unbelievable," Republican Senate Minority Leader Mitch McConnell said.
Last month, the White House approved construction of the southern portion of the pipeline.
The White House has said it will review the remaining parts of the project once a new route through the US state of Nebraska has been identified.
Earlier, the whole project had been postponed after environmental groups and the state of Nebraska raised concerns over the route, which ran through the environmentally sensitive Sandhills region.