Two dead in shooting at Pittsburgh psychiatric clinic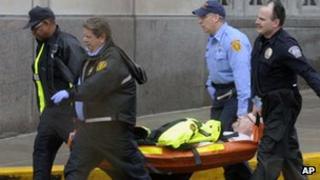 Two people have died and seven are injured after gunfire at a psychiatric clinic in the US city of Pittsburgh.
A gunman opened fire in the lobby of the clinic, armed with two semi-automatic handguns, the mayor said.
The shooter exchanged fire with police, and was shot dead. Another person died and a policeman was among those hurt.
Two victims are in intensive care, two have been released and three were being admitted to hospital. They were all expected to survive, the hospital said.
A Swat team was called to the scene at the University of Pittsburgh Medical Center and it was placed on lockdown.
Mayor Luke Ravenstahl said "police acted admirably and did engage in gunfire", although he did not confirm whether it was a policeman who fatally shot the gunman.
Mr Ravenstahl said the wounded police officer had been grazed by a bullet.
One man, Gregory Brant, 53, was in the clinic waiting room when the incident broke out.
"We heard a bunch of yelling, some shooting, people yelling: 'Hide! Hide!'" Mr Brant told the Associated Press news agency.
Mr Brant said that he, and the others in the waiting room, barricaded themselves into the room and crouched in a corner.
"Luckily he didn't see us in there, and we didn't make eye contact with him," he added.
The medical centre, which is in the state of Pennsylvania, had issued an alert shortly after 14:00 local time (19:00 GMT) to warn people about the shooting.