Jury rules Allen Stanford's assets can be seized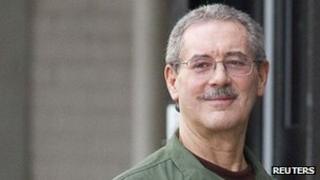 US authorities can try to seize $330m (£208m) linked to the convicted pyramid schemer Allen Stanford, a jury has ruled.
On Tuesday, Stanford was found guilty of swindling $7bn from about 30,000 investors around the world.
Officials can now target 29 accounts in Switzerland, Britain and Canada, after a jury found there was enough evidence to link the funds to the scheme.
Stanford is due to be sentenced in his home state of Texas on 14 June.
He faces up to 20 years in prison on the most serious charges.
Court-appointed liquidators in the Caribbean island of Antigua, where Mr Stanford's bank was based are also trying to seize the assets.