Super Tuesday: Media cool on Romney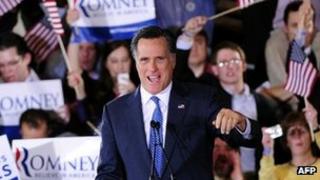 US Republican presidential contender Mitt Romney has won in six of 10 states holding primary and caucus contests on Super Tuesday.
He has stretched his lead in the race for the delegates who eventually elect a Republican nominee, with his 415 pledged delegates putting him on more than the other contenders combined.
His closest rival, Rick Santorum, has 176 delegates, with Newt Gingrich and Ron Paul further back.
But many judged that Mr Romney's Super Tuesday win was not decisive enough to end the race for the nomination.
Here is a round-up of what some of the US and international media have to say about the results.
US media
The New York TimesMr Romney won the most delegates, but "not necessarily the argument". The outcome "did little to resolve the questions about his ability to connect with voters, especially conservatives," Jeff Zeleny writes, adding that Mr Romney's supporters feel he has suffered as the Republican campaign has shifted steadily to the right.
In its editorial, the New York Times criticises the candidates for a "relentlessly nasty, divisive and vapid" campaign, warning they that "they may pay a price for the casual cruelty with which they attack whole segments of society".
Online magazineSlate din the key state of Ohio as "ugly", saying the race is now "a battle between a movement and mathematics".
Slate asks whether his success so far could largely be down to the money he has thrown at his campaign - an advantage he will not have if he does eventually face Barack Obama.
In Salon, Joan Walsh saysSuper Tuesday was Mr Romney's "worst night yet", and that Republicans are showing they "don't like the rich guy who's trying to buy this race".
It was "a late chance for Romney to restore his supposed invincibility - and he failed". Referring to a recent debate over contraceptive rights and the issue of abortion on the campaign trail, she notes the "dangerous gender gap" many say is emerging - with female Republicans apparently shifting allegiance to the Democrats "as this assault on their rights continues" - and suggests that the only real winner on Tuesday was Mr Obama.
The Atlanticthe Republican contest has "taken on a Groundhog Day" quality. "Every step toward victory by the ostensible front-runner gets greeted by an equal and opposite backlash." Mr Santorum has proved "unexpectedly resilient", Molly Ball writes, and despite "a penchant for regrettable statements and a slapdash campaign operation", Mr Romney's people have not yet managed to convince voters he is not up to the task.
International media
In the UKThe Telegraph notescomments by non-runner Sarah Palin, who mooted a possible return to the Republican race, saying she would "seriously consider whatever I can do to help our country" if no candidate managed to win a majority at the Tampa convention.
Mrs Palin also disclosed that she had voted for Mr Gingrich because he was "the cheerful one", the paper reports, and refused to rule out a bid for the presidency herself in 2016.
The Economist saysthat compared to the Super Tuesday's of previous campaign, this was "a shadow of its former self", with fewer states involved and no candidate delivering a "fatal blow".
While Mr Romney's "strategy of mercilessly lashing his rivals with negative ads" may have won him support for this round, it could be costing him dearly among the wider electorate, the Economist says. "Republicans hope that voters will have forgotten the grubbiness of the primary campaign by November - and so they might."
Writing in Germany's Der Spiegel,Gregor Peter Schmitz says the vicious attacks which have characterised the Republican campaign should be a cause for concern across the Atlantic. "Europe can only lose when the US tears itself apart in election campaigns and ignores its own problems - even more so, now that several European countries are facing a severe debt crisis and Europe has become a Republican chew toy."
Bloomberg suggestsMr Romney is still failing to connect with socially and fiscally conservative Republicans, and that to win them over he will have to keep the campaign focused on opposition to abortion rights and gay marriage.
Those are "topics that don't coincide with the economic issues that are top concerns for independent voters".
But April, where counts will be held in states where Mr Gingrich and Mr Santorum have less support, could prove to be be more decisive, Bloomberg says, giving Mr Romney time to fine-tune his message and "finally win the support of those voters still resisting him".