McNugget resembling George Washington sells for $8,100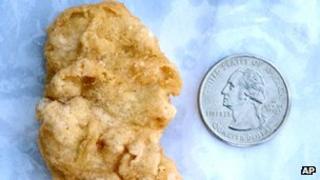 A three-year-old McDonald's McNugget resembling first US President George Washington has sold on eBay for $8,100 (£5,108).
Its owner Rebekah Speight, of Nebraska, said she auctioned it to raise money to send children to a summer camp.
She said the chicken piece had been kept in her freezer since she took it home from a visit to McDonald's with her children in 2009.
It was among leftover food she was set to bin until she took a closer look.
"Sure enough, it was in the likeness of President George Washington," she wrote in an explanation on the eBay site.
eBay temporarily took down the auction last month because it violated rules regulating expired food, the Associated Press news agency reports.
But the site later sent Ms Speight, of Dakota city, an email saying it was "willing to make an exception to help your cause".
TheSioux City Journalquoted Ms Speight as saying the auction had 44,795 views, with 1,610 people actively watching the proceedings.
She plans to use the money to help send 50 children from a family worship centre to a summer camp in Dayton, Iowa, the Journal reports.