US Attorney General justifies terrorism kill policy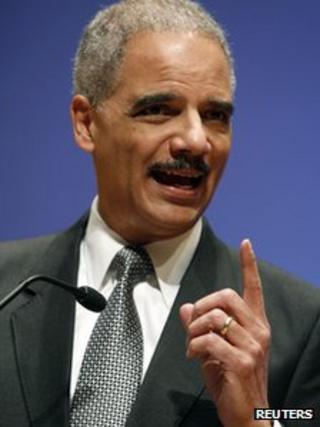 The US has for the first time outlined when it will kill Americans who are plotting attacks against the country.
US Attorney General Eric Holder said American citizens living abroad could legally be targeted with "lethal force" if there was an imminent threat.
The Obama administration was criticised by civil liberties groups after it killed the US-born Islamist cleric Anwar al-Awlaki in September 2011.
But Mr Holder said the US was "at war", so court approval was not needed.
'Threat justifies force'
In a speechat the Northwestern School of Law in Chicago, he said use of lethal force would be governed by the laws of war, but sometimes the government had to act quickly, making it impractical to seek permission from a court.
"Military and civilian officials must often make real-time decisions that balance the need to act, the existence of alternative options, the possibility of collateral damage, and other judgements," said Mr Holder.
"All of which depend on expertise and immediate access to information that only the Executive Branch may possess in real time."
He said force would only be used if a target was a senior figure in al-Qaeda or an affiliated organisation, it was not possible to capture them, and efforts to avoid hurting others were taken.
"The principle of humanity requires us to use weapons that will not inflict unnecessary suffering," he said. "These principles do not forbid the use of stealth or technologically advanced weapons."
The US has used remotely controlled aircraft known as drones to target many al-Qaeda leaders in Afghanistan and Pakistan.
Mr Holder did not discuss any current programmes, but said the threat posed by extremists justified the use of force.
"The unfortunate reality is that our nation will likely continue to face terrorist threats that, at times, originate with our own citizens," he said.
"When such individuals take up arms against this country, and join al-Qaeda in plotting attacks designed to kill their fellow Americans, there may be only one realistic and appropriate response.
"We must take steps to stop them, in full accordance with the Constitution. In this hour of danger, we simply cannot afford to wait until deadly plans are carried out; and we will not."