US toddler found in Indiana tornado wreckage dies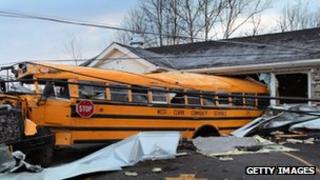 A 15-month-old girl who was found alive after her home was destroyed by a tornado in the US state of Indiana has died in hospital.
Angel Babcock was the only member of her family to survive the initial impact when the storm hit their mobile home in New Pekin on Friday.
She was being treated in Louisville, Kentucky, but died on Sunday.
She was one of 39 people killed by the storms, including her father, mother, and two siblings.
The states of Indiana, Kentucky, Ohio, Georgia and Alabama were all hit by the intense winds which flattened homes, lifted rooftops and tore down powerlines.
A total of 90 tornadoes and 700 severe weather events were reported on Friday.
They caused widespread disruption to power supplies, internet and phone communications, and it is still not clear how many people have been made homeless.
President Barack Obama has offered federal government help to the affected states.
Tornadoes occur all year round in the US, although the strength of this week's storms was unusual for the time of year - the peak period is March to May in the southern US and later further north.