International smuggling rings busted, say US officials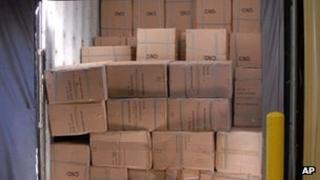 The US authorities say they have smashed several major international smuggling rings stretching from the US to China, Taiwan and the Philippines.
In all, 29 people were charged with distributing contraband cigarettes and fake luxury goods in the United States, as well as drug smuggling.
The smuggled goods were manufactured in China and were worth hundreds of millions of dollars, prosecutors say.
All the rings used a port in New Jersey. Six suspects remain at large.
'Stern warning'
The US authorities say undercover agents used phonetapping to dismantle what they described as a massive conspiracy.
"Had they not been caught, approximately $200m worth of illicit goods would have been smuggled into our country," said US Homeland Security investigator James Dinkins.
"The enormity of this case - and the fact that we followed the investigative leads directly to the source in China, where so many counterfeit goods originate - is a stern warning to counterfeiters and smugglers," he added.
The seized goods at the Port Newark-Elizabeth Marine Terminal included counterfeit Burberry, Louis Vuitton, Gucci and Nike labels.
The smugglers also reportedly tried to import about 50kg of crystal methamphetamine from Taiwan.
Two of the alleged ringleaders - Taiwanese nationals Hui Sheng-shen and Huan Ling-chang - could face life in prison if convicted.