Rutgers University webcam trial hears mystery witness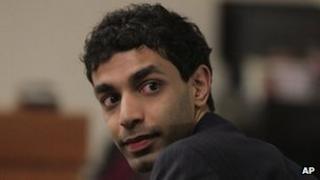 A man allegedly secretly filmed kissing a US university student, who killed himself days later, has told a court he noticed a webcam in the dormitory room.
The mystery witness, identified as MB, said he noticed students looking at him as he left the building that night.
Tyler Clementi, 18, jumped to his death from a New Jersey bridge in 2010, after room-mate Dharun Ravi allegedly captured video of the gay encounter.
Mr Ravi, 20, is charged with bias intimidation, which is a hate crime.
The defendant, who is also accused of invasion of privacy, could face up to 10 years in prison, although prosecutors must prove he acted out of anti-gay sentiment.
MB, whose identity is being kept private, told the court in New Jersey on Friday that he met Clementi online, before they met in person in September 2010.
He told the court that when he went to Clementi's dorm room at Rutgers University that month: "I had just glanced over my shoulder and I noticed there was a webcam that was faced toward the direction of the bed.
"Just being in a compromising position and seeing a camera lens - it just stuck out to me."
MB told the court that he and Clementi had sex that night. As MB left the building he noticed about five students looking at him.
"Had they been in the street or somewhere other than this building I would have asked them why they were looking at me," he said, adding that he found the experience "unsettling".
The man said he met Clementi a third time, two nights later.
MB testified that he wanted to see Clementi again, but added: "As far as whether I was going to return to that building to see him, I felt a little uneasy about it."
Molly Wei, a former student at Rutgers who took the witness stand earlier this week, told the court she saw about two seconds of live streamed video of Clementi and another man kissing.
She said that she did not record or broadcast footage of the encounter.
Gay rights organisations have said Clementi's death is just one example of how young people nationwide kill themselves after being bullied over their sexuality.