Ohio suspect TJ Lane faces juvenile murder charges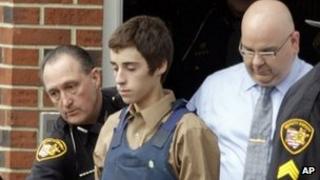 A 17-year-old suspected of a deadly school shooting in the US state of Ohio has been charged as a juvenile, and faces three aggravated murder counts.
TJ Lane allegedly killed three fellow students and wounded two after he opened fire in the cafeteria of Chardon High School.
Trying Mr Lane as a juvenile would significantly reduce the amount of jail time he would face if convicted.
However, the county prosecutor has said he plans to try him on adult charges.
Juveniles convicted in Ohio generally do not stay in custody past the age of 21. However, a similar adult charge could see Mr Lane face life in prison.
Mr Lane was also charged with two counts of attempted aggravated murder and one count of assault.
Prosecutor David Joyce says the victims were random and has described TJ Lane as "not well".
'Health nut'
The mother of Daniel Hewlin, one of the three students who died in the shooting, told ABC News she had forgiven the shooter.
"I would tell him I forgive him because, a lot of times, they don't know what they're doing. That's all I'd say," Phyllis Ferguson said.
But Mr Lane's neighbour expressed disbelief over the teenager's alleged involvement with Monday's shooting.
Mr Lane had struggled at school and had a turbulent family life, but showed signs of improvement after moving into his grandparents' house and starting at a new school, Russ Miller told the Associated Press news agency.
"He went from flunking out, from what I understand, to almost a straight-A student with honours, and he was going to graduate a year early," he said.
Mr Miller also described Mr Lane as a "health nut", adding that Mr Lane did not drink, smoke or take drugs.
Records released by the court revealed that had been involved in an assault case in 2009, accused of choking and punching his uncle.
The report said Mr Lane told police he had been trying to help his brother, who was resisting his uncle's attempt to get him out of the house.
It also stated that Mr Lane's brother had been addicted to drugs and the uncle had wanted to prevent further problems by getting the brother out of the house.
Chased out
Gunfire broke out at Chardon High School at 07:30 EST (12:30 GMT) on Monday.
Mr Joyce said the 17-year-old had admitted to firing 10 shots from a .22 calibre handgun at a group of students.
The suspect was chased out of the building by a teacher before turning himself in to two people in the vicinity of the school.
There has been an outpouring of gratitude for the school football coach, Frank Hall, who has been credited with perhaps saving lives by chasing after the shooter.
"I don't know why this happened. I only wish I could have done more. I'm not a hero. Just a football coach and a study hall teacher," an emotional Mr Hall said during a news conference on Thursday.
"I want you to know I was with them. I prayed with them. I wiped their tears and I know God was with them," he added.
Three students died in the shooting: one on Monday, with two more succumbing to their injuries on Tuesday.
One victim remains in hospital, with one released on Tuesday.