Midwest tornado death toll rises to 13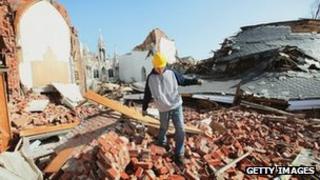 A 13th person has died after a series of tornadoes ripped through the US Midwest, causing widespread damage.
A 53-year-old man injured when his home in Harveyville, Kansas, collapsed on him was taken off life support and died on Thursday, officials said.
On Wednesday, three people died in Tennessee, after deaths in Missouri and Illinois and more than 100 injuries.
Forecasters say they are expecting more storms with the possibility of tornadoes on Friday.
As many as 35 tornado sightings were reported on Tuesday evening and Wednesday in the US states of Nebraska, Kansas, Missouri, Illinois and Kentucky.
The small town of Harrisburg, Illinois, where six people died, has been devastated by the "super-cell" storms.
Buildings were flattened and walls ripped off the side of a local hospital during the storm.
'Disheartening'
Residents of Harrisburg spent much of Thursday picking through piles of rubble, salvaging photographs and other mementos from homes that had been razed to the ground, before the next wave of bad weather.
Darrell Osman, who lost his mother, said the consequences would be dire if the town was ravaged a second time.
"On a personal level, I think I've been hit as hard as I can be hit, but it would be disheartening for this community," Mr Osman told the Associated Press news agency.
On Wednesday, a state of emergency was declared in Missouri and Kansas to aid the recovery effort in the wake of the storms.
The twister that hit Harrisburg, Illinois was classified by the National Weather Service as an EF4 - the second-highest rating - because of the scale of damage they inflicted.
The tornado was 200 yards (183m) wide and generated wind speeds of up to 170mph (274km/h).
Meteorologists have warned the next wave of thunderstorms could affect some of the areas damaged on Wednesday.
Meanwhile, AccuWeather.com meteorologist Henry Margusity told the Reuters news agency that Indiana, Ohio, Kentucky and Tennessee would be the worst affected areas, including some densely populated regions.
"Tomorrow looks like it's going to be another bad day for severe weather. All the parameters are coming together - humidity, wind shear, a very strong jet stream," he said.