Andrew Breitbart, US conservative publisher, dies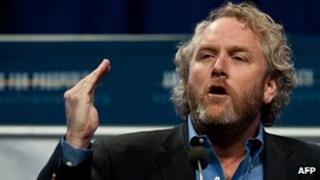 Andrew Breitbart, the US conservative author and activist known for releasing embarrassing "sting" videos of left-wing groups, has died, aged 43.
He published semi-naked photos that had been tweeted by Congressman Anthony Weiner which ultimately led to the Democrat's resignation.
ABreitbart.com editor confirmed his deathof "natural causes".
Breitbart collapsed when walking near his home in Los Angeles, according to the Associated Press news agency.
He had suffered heart problems a year earlier, said his father-in-law, Orson Bean, who told AP: "I don't know what to say. It's devastating."
Breitbart helped set up the Huffington Post and was an editor on the Drudge Report website before running his own website, Breitbart.com and its most popular branch, BigGovernment.com
'Happy warrior'
Breitbart is survived by his wife, Susannah Bean Breitbart, 41, and four children.
"We have lost a husband, a father, a son, a brother, a dear friend, a patriot and a happy warrior," the statement from Breitbart.com editor-in-chief Joel Pollak said.
Breitbart was at the centre of several controversies involving liberal figures.
He published tweets from former Representative Anthony Weiner that included photos of the New York Democrat in his underwear.
The married politician initially denied he had been sending lewd photos and messages online to women, before he stepped down after admitting the tweets were his own.
In 2010, Breitbart was fiercely criticised after he published an edited video of a US agriculture department official, Shirley Sherrod, telling a black advocacy group, NAACP, how she had once been reluctant to help a white farmer save his farm.
It soon emerged that Ms Sherrod's story, in its full context, was one of racial understanding in which she realised her mistake, helped the farmer and befriended him.
Ms Sherrod, who is black, was fired, but later offered a new job in the department, and sued Breitbart for defamation.
'Passion and commitment'
In one of his penultimate tweets - when asked if he had apologised to Ms Sherrod - Breitbart replied: "Apologize for WHAT?"
Ms Sherrod spoke of her surprise upon learning of Breitbart's death on Thursday.
She told US political website Talking Points Memo: "My prayers go out to Mr Breitbart's family as they cope through this very difficult time."
Similar videos made by activist James O'Keefe that led to investigations of the liberal community outreach group ACORN and Planned Parenthood were also published by Breitbart.
Breitbart was a strong opponent of the Occupy Wall Street movement, denouncing protesters at last month's Conservative Political Action Conference.
In his speech, he claimed rape was common in Occupy encampments and said the protesters had a "culture of rape".
Media Matters, a liberal media watchdog group that had clashed with Breitbart over the years, said in a short statement their "thoughts and prayers are with his family today".
"We've disagreed more than we've found common ground, but there was never any question of Andrew's passion for and commitment to what he believed," the statement said.
Prominent US conservatives have called Breitbart a "warrior", "absolutely fearless" and a "bulldog for the cause".
Republican presidential candidate Mitt Romney tweeted: "Ann and I are deeply saddened by the passing of @AndrewBreitbart: brilliant entrepreneur, fearless conservative, loving husband and father."
In a postquoting a soon-to-be-published book, Mr Breitbart wrote: "I love fighting for what I believe in. I love having fun while doing it. I love reporting stories that the Complex refuses to report.
"I love fighting back, I love finding allies, and - famously - I enjoy making enemies."