Partial Keystone pipeline welcomed by White House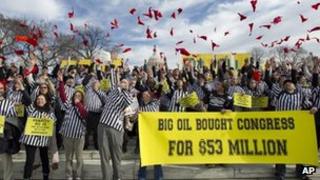 The White House says it welcomes a move by TransCanada to build the southern leg of the Keystone XL pipeline.
The Oklahoma-Gulf Coast route does not need presidential approval and would avoid Nebraska, where there are environmental concerns.
The 485-mile (780km) pipeline is expected to cost about $2.3bn (£1.4bn).
President Barack Obama rejected the full pipeline after being given a 60-day deadline on the project by Congressional Republicans.
The partial route would aim to alleviate a bottleneck in Cushing, Oklahoma, a major oil storage hub.
"Moving oil from the Midwest to the world-class, state-of-the-art refineries on the Gulf Coast will modernize our infrastructure, create jobs, and encourage American energy production,'' White House spokesman Jay Carney said in a statement.
Critics say moving forward with the southern leg was a ploy to avoid a State Department review of the larger project.
Environmentalists argue the proposed Canada-to Texas pipeline encourages production of oil from tar sands that requires large amounts of energy to extract.
There are also worries about spills on route that would cross the environmentally sensitive Sandhills region in Nebraska.
Supporters, including many Republicans, have argued the pipeline would create jobs within the US economy.
A spokesman for Republican House Speaker John Boehner said the announcement was good news, but said the move "makes the Obama adminstration's refusal to approve [the larger Keystone XL project] even more disturbing".