BP oil spill: Louisiana ruin remains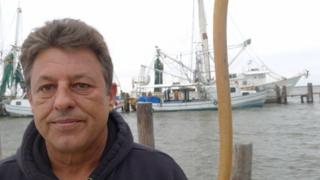 As it emerges that BP has reached a settlement over its role in the disastrous oil spill of 2010, Louisiana residents are still living with the consequences.
The fishing town of Grand Isle sits right at one of the edges of America, at the end of one of the slim fingers of Louisiana that reaches out to the Gulf of Mexico.
The houses, bars and offices here all stand on stilts, some 10ft high, keeping them well above whatever flood water might sweep the land.
A grey late-February day is not a great time to visit. But this year it is immeasurably grimmer than normal.
"Basically all we got missing is some tumbleweed rolling down the middle of the highway," says Dean Blanchard, the one-time "King of Shrimp" who now sits, glum and very angry, at the harbour.
"Then they could officially call us a ghost town."
Mr Blanchard spent 30 years building up a business that sold ice and diesel to boats, then bought and sold the shrimp they harvested.
They year 2010 was to be a bumper harvest: he had seen off local and international competition, bought new ice machines and the price of shrimp was good.
But thingsdid not work out.
"There's only one reason to come down here: to fish, and there's no more fish. BP killed the fish," he says.
"We're down to one restaurant and one gas station. And the gas station shuts on Tuesdays. I've never seen this place like this before, never."
'Sub-lethal impacts'
Twenty-two months after BP's Deepwater Horizon drilling rig exploded, killing 11 men and sending an estimated 5 million barrels of oil into the Gulf of Mexico, BP, Halliburton, Transocean and a clutch of other companies have been preparing to face the legal music.
BP has been in intense negotiations with some of the more than 100,000 different plaintiffs, negotiations that stretched on past the scheduled trial start date and long into the chilly New Orleans nights.
Hanging over the oil giant is the threat of tens of billions of dollars in fines and penalties should it be found negligent or grossly negligent over theDeepwater disaster.
The firm has already spent big in Louisiana: part of the $20bn (£12.6bn) compensation fund it established after the spill has been disbursed here. There has also been money for research into the condition of the Gulf and money to lure tourists back to the state.
"BP has been very responsive," says Jay Dardene, Louisiana's lieutenant governor. Tourism is his responsibility.
Time is a great healer, he says, when it comes to the raw anger many people felt toward the company in the weeks and months after the spill.
"BP has provided a significant amount of funding," he says, "to all the parishes in the state of Louisiana, and to the state of Louisiana, to help accelerate the tourism recovery from the spill." The threat of lawsuits, he adds, certainly helped with that funding.
And BP insists that it has changed as a result of the spill.
"We are sharing some of the knowledge that we learned during this spill with everyone in the industry. That knowledge is open to them," says Curtis Thomas, BP's director of media relations in Louisiana. But, he says, something bigger has happened too.
"Our demeanour has changed. We are a company that realises that mistakes happen, that when you make a mistake you step up and you take responsibility. We have done that, and we have said we will be here and we will follow through on our commitments."
How long BP's environmental responsibilities will last here is anybody's guess. When the Exxon Valdez tanker dumped million of gallons of oil onto the Alaskan shoreline in 1989, 13,000 miles of coast was despoiled.
That did not happen in Louisiana. In a desperate attempt to protect Gulf beaches - and, say critics, BP's bottom line - dispersants were dumped on the spilt oil here before it made land.
"Honestly, we don't know," says Aaron Viles, deputy director of the Gulf Restoration Network, of the prospects for recovery. "If you look at the Exxon Valdez, which is the only thing we can really compare to when it comes to the volume of oil, what we do know is that it took four seasons for their big herring fishery to collapse commercially.
"It didn't happen immediately. It takes a while for these sub-lethal impacts to work their way through the ecosystem and to have an impact. So we are watching very anxiously."
Back on the long spit of land that ends in Grand Isle, there are still those who will not eat Gulf seafood.
Resident Margaret Curole now sits on the executive board of the Commercial Fisherman of America.
"You know," she says, "When you've spent nearly all your life as a grown woman fishing off the back deck of a boat and handling millions of pounds of shrimp, and you start seeing shrimp that has no eyes, something is wrong."