Romney and Santorum in key test in Michigan and Arizona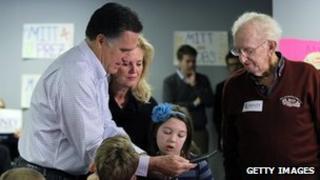 Voting is coming to a close in Michigan and Arizona as Mitt Romney and Rick Santorum battle for the Republican presidential nomination.
Both men have been campaigning intensively over the past few days. Pre-primary polls gave Mr Romney a marginal lead in Michigan, and a stronger advantage in Arizona.
Newt Gingrich and Ron Paul are focusing their efforts on other states.
Analysts say a victory in his home state of Michigan is key for Mr Romney.
He has long been seen as the front-runner and favourite for the nomination - and currently leads the race for delegates - but has struggled to win over a strong majority of conservative Republican voters.
Most polls closed at 20:00 EST (01:00 GMT) in Michigan, where 30 delegates are at stake. Delegates will be awarded to candidates in each congressional district, with two "at-large" delegates also awarded.
Some counties in the state will close voting at 02:00 GMT, prompting official exit poll results.
Early results show a tight race, with Mr Santorum leading Mr Romney by 41% to 39% after about 10% of precincts reported.
In Arizona, where polls will close at 19:00 local time (02:00 GMT), 29 delegates will be awarded to the winner of the state's primary.
The winner of the eventual nomination will go on to face President Barack Obama in the November election.
Momentum
Early exit polling showed that around six out of 10 voters in Michigan on Tuesday were Republicans. The state's primary rules do allow others to vote, and around 10% of all voters identified themselves as Democrats.
Other findings from the exit polls in Michigan:
one in four said they had made up their mind in the past few days
more than 40% supported the government bailout of the automotive industry
most voters said the economy was their top priority
in both Michigan and Arizona, about half of voters said they "strongly" backed who they had voted for.
Six out of 10 Michigan primary voters described themselves as "conservative" - the lowest proportion of conservative voters in primaries so far.
On Tuesday, Mr Romney appeared to acknowledge that he has had trouble winning over conservative voters in a state where he was expected to do well.
Mr Romney said his disconnect with the party's right-wing stemmed from his unwillingness to make "incendiary" comments.
He accused his rivals of saying "outrageous things" in an effort to win the backing of the Republican base, adding that he was not prepared to set his "hair on fire" in a bid for support.
He also attacked Mr Santorum's recent move to target Democratic voters with an automated message criticising Mr Romney's record on bailouts for the automobile industry.
Mr Romney accused Mr Santorum of trying to "kidnap the primary process" by attempting to get Democrats to vote against him. He told Fox News on Tuesday morning that the tactic was "outrageous and disgusting... a terrible, dirty trick".
"This is a new low for his campaign and that's saying something," Mr Romney said.
Mr Santorum's recorded message to Democrats said: "Romney supported the bailouts for his Wall Street billionaire buddies but opposed the auto bailouts.
"That was a slap in the face to every Michigan worker and we're not going to let Romney get away with it," it continued.
Although only Republicans may participate in Michigan's primary, electoral rules allow voters to temporarily change their affiliation on the spot - giving Democrats the opportunity to cast a ballot on Tuesday.
Mr Santorum and his supporters have also spent about $2m (£1.3m) on advertising in Michigan.
Speaking to a crowd of union auto workers in Washington on Tuesday, President Barack Obama took credit for the industry's recovery after a taxpayer-backed bailout.
Without naming any of the Republican candidates, Mr Obama said that assertions that union members profited from bailout was "a load of you know what".
On the campaign trail Mr Romney had played up his ties to Michigan, where his father was a former governor.
Whoever wins in Michigan could gain crucial momentum ahead of next week's "Super Tuesday" votes, which sees 10 states go to the polls.
Mr Gingrich, a former Speaker of the House of Representatives, and Texas Congressman Ron Paul are focusing their efforts on next week's vote.
Precarious lead
In recent weeks, Mr Santorum has mounted a strong challenge to Mr Romney in Michigan.
An average of polls in the statecompiled by Real Clear Politicsshows the former governor clinging to a narrow lead of 1.5%, although he maintains amore comfortable leadin Arizona.
A loss for Mr Romney in either state could establish Mr Santorum as a new frontrunner in the presidential race, correspondents say, and raise questions about Mr Romney's ability to appeal to his party's base.
Mr Santorum sprang an upset in the last round of voting, when he picked up three victories - in Missouri, Minnesota and Colorado - in a single night.
Mr Romney currently has 123 delegates, compared to Mr Santorum's 72, with 1,144 needed to secure the nomination.