US judge ends solitary confinement for Viktor Bout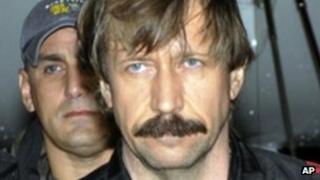 A New York judge has ordered prison officials to remove Russian arms dealer Viktor Bout from solitary confinement, where he has spent 15 months.
Judge Shira Scheindlin said Bout posed no threat to other inmates.
Bout, known as the Merchant of Death, was arrested in Thailand in March 2008 as a result of an undercover US government operation.
He was convicted in November of trying to sell weapons to the Colombian left-wing guerrilla group Farc.
He has been held in solitary confinement at the Metropolitan Correctional Center in Manhattan, New York.
But Judge Scheindlin noted that there was no reason to believe Bout had connections to terrorists or would engage in violent acts in prison.
She said the harsh conditions of his detention were an "exaggerated response", and that he was only as dangerous as a businessman involved in arms trafficking.
Correspondents say the ruling is an unusual intervention on a subject usually left to prison authorities.
Bout's lawyer, Albert Dayan, said the ruling was "recognition that our federal prison system is bound by humane considerations".
Bout, 45, is to be sentenced on 12 March. He faces a minimum of 25 years in prison.