George Huguely found guilty of Yeardley Love murder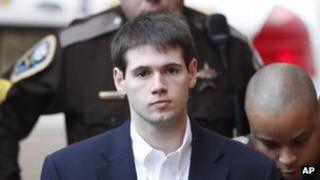 A Virginia jury has found a US university lacrosse star guilty of the murder of his former girlfriend, and recommends he serve 26 years in jail.
After deliberating for nine hours, the jury concluded George Huguely had killed Yeardley Love, but he had not premeditated the murder.
He will be formally sentenced by a judge this summer.
The former University of Virginia lacrosse player was also found guilty of grand larceny.
Love and Huguely's on-and-off, two-year relationship had been marked by violence and bouts of heavy drinking by Huguely.
"There's nothing to make good the terrible tragedy done to the Love family," prosecutor Dave Chapman said. "We hope they feel some solace."
'Unbearable'
During the trial, the prosecution showed threatening emails from Huguely to Love he sent thinking she had become involved with another lacrosse player.
Huguely looked down as Love's family testified during the sentencing hearing.
Sharon Love told the jury the loss of her daughter was an "unbearable" tug on her life.
"Every year that goes by I'd like to know what she'd be doing now," she said.
Defence attorneys said they were disappointed by jury's verdict but were proud to represent Huguely.
"No person is the sum of the worst decision he ever made," defence lawyer Rhonda Quagliana told jurors before they began deliberating the sentencing.