New York police 'spied on' New Jersey Muslims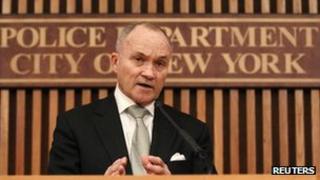 New York City police secretly collected information on Muslim communities in nearby Newark, New Jersey, police records have shown.
Newark Mayor Cory Booker said he was not informed of the surveillance, revealed by the Associated Press.
"This raises a number of concerns," Mr Booker said, promising to investigate. "It's just very, very sobering."
Earlier this week university officials in the US north-east protested against NYPD monitoring of Muslim students.
Administrators at Yale and Columbia protested about the police department's activities, which the NYPD said were justified in an effort to identify possible campus radicalisation.
Earlier this month, civic groups from around the US called for a legal investigation into intelligence-gathering on Shia Muslims in New York.
NYPD's demographic unit compiled information on mosques and Muslim-owned businesses in Newark in 2007, AP reported.
The secret police report obtained by the news agency mentions no evidence of terrorism or criminal behaviour.
"These locations provide the maximum ability to assess the general opinions and general activity of these communities," the report said.
Similar reports were prepared for two counties in Long Island, in New York state.
Jersey unsure
In a statement, the NYPD told the BBC that they had informed Newark officials of their operations.
Newark's former police director, Garry McCarthy, told the Associated Press that the NYPD had contacted his police department "as a courtesy" before sending the officers.
No Newark police officers were involved in the surveillance, according to Mr McCarthy.
But New Jersey Governor Chris Christie said he had knowledge of the operation, which he called "disturbing".
Newark Mayor Cory Booker said the extent of the reported surveillance came as a surprise to him.
"If anyone in my police department had known this was a blanket investigation of individuals based on nothing but their religion, that strikes at the core of our beliefs and my beliefs very personally, and it would have merited a far sterner response,'' he said.
"We're going to get to the bottom of this."
The report notes Newark's large Portuguese and Brazilian communities, but says that only information about "Islamic religious centers" and Muslim-owned businesses were gathered.
However, polls show that most New Yorkers strongly support the NYPD's counter-terrorism efforts.
On Tuesday, New York City Mayor Michael Bloomberg strongly defended the city's police department after university leaders protested over campus monitoring.
"The police department goes where there are allegations," Mr Bloomberg said.
"And they look to see whether those allegations are true. That's what you'd expect them to do. That's what you'd want them to do. Remind yourself when you turn out the light tonight."