US Haditha Marine Frank Wuterich discharged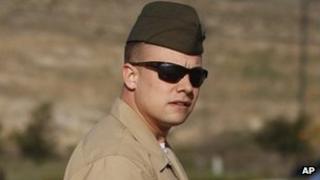 The US Marine Corps has discharged the man convicted over the killing of Iraqi civilians in Haditha, a spokesman said.
Former Sgt Frank Wuterich, 31, was given a general discharge under honourable conditions and completed his service on Friday, he added.
Wuterich avoided imprisonment after reaching a plea deal, but had earlier faced several counts of manslaughter.
Twenty-four people died in the 2005 killings, including women and children, after a roadside bomb killed a Marine.
Wuterich was one of eight men charged in the case, but charges against six were dropped or dismissed and one was acquitted.
He faced a potential maximum sentence of three months, but the judge at Camp Pendleton, California, recommended that Wuterich should not be detained.
Wuterich admitted that he told his men to "shoot first, ask questions later", in one of the worst incidents of violence against Iraqi civilians by US troops.