Rick Santorum hits Barack Obama on energy and climate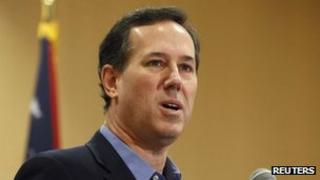 US Republican presidential hopeful Rick Santorum has renewed an attack on President Barack Obama's environmental policy, calling it "political science'.
Mr Obama unwisely limits energy production, he said, saying science supported backers of oil exploration.
Mr Santorum spoke after drawing criticism at the weekend for saying Mr Obama supported a "phony theology".
The former Pennsylvania senator has seen his support rise since winning three state contests two weeks ago.
He faces a key test in primary elections in Arizona and Michigan on 28 February.
Long-time front-runner Mitt Romney hails from Michigan, where his father served as governor, but he currently trails Mr Santorum in polling there.
Correspondents say defeat for Mr Romney in what is effectively his home state would sow panic in the Republican establishment and increase the chances of a messy, drawn-out end to the nomination process.
After Michigan several states, including key presidential battleground Ohio, will hold contests on "Super Tuesday", on 6 March.
The eventual Republican nominee will face President Barack Obama in November's general election.
'Political science'
Speaking on Monday at a campaign stop in Ohio, Mr Santorum hit out at the concept of global warming, and said that as president he would support the coal industry.
"I refer to global warming as not climate science, but political science," he said.
Two days earlier, Mr Santorum told voters that Mr Obama's agenda was based on "some phony theology, not a theology based on the Bible".
Pressed on the meaning of his comments, Mr Santorum told US Sunday talk shows that he was referring to Mr Obama's environmental policies - rather than his religious beliefs.
"This is not questioning the president's beliefs in Christianity," he told CBS News. "I'm talking about the belief that man should be in charge of the Earth, and have dominion on it, and be good stewards of it."
However, Mr Obama's campaign derided Mr Santorum's remarks as unacceptable, and he did not re-use the phrase on Monday.
"It's just time to get rid of this mindset in our politics that, if we disagree, we have to question character and faith,'' said Robert Gibbs, a former White House press secretary.
Mr Obama recently refused permission for a Canadian firm to build a major pipeline, called Keystone XL, from the oil sands of Alberta, Canada, to the Gulf of Mexico.
Environmental concerns shaped his eventual decision, drawing criticism from those backing the pipeline and calling for greater US energy independence.
Mr Santorum said on Monday that he would approve the pipeline if elected.
General election worries?
Mr Santorum has seen an increased focus on his campaign since winning contests in Missouri, Colorado and Minnesota on 7 February.
Despite more press scrutiny, though, he has maintained impressive poll numbers. The latest national Gallup tracking poll shows Mr Santorum leading Mr Romney, a former Massachusetts governor, by 10 points.
He is also polling strongly in Michigan, although a new poll shows Mr Romney improving his position in the state - rising to 33% support behind Mr Santorum's 37%.
As the primary nears, the Romney campaign has increased the pace of TV advertising in Michigan, including attacks on Mr Santorum - whom they paint as an unreliable guardian of the US economy and a veteran of a broken Washington system.
Mr Romney is also planning to make a major economic speech on 24 February at Ford Field, home to the Detroit Lions NFL team.
The prospect of a Santorum win in Michigan and an extended nomination process - and even a possible Rick Santorum candidacy - has left some Republicans concerned about their chances in November's general election.
An unnamed Republican senator told ABC News on Sunday the party would be "killed" if Mr Romney's nomination was not finalised until August.
"He'd be too damaged, if he can't even win in Michigan, where his family is from, where he grew up."
If Mr Santorum or former House Speaker Newt Gingrich emerged as the nominee, they would lose 35 states in a general election match-up with Mr Obama, the senator predicted.
Mr Gingrich, who has struggled since winning January's South Carolina primary, also told Fox News that any candidate who lost his home state contest would be "very badly weakened".
Mr Gingrich faces his home state primary, in Georgia, on Super Tuesday.