New Jersey governor vetoes gay marriage bill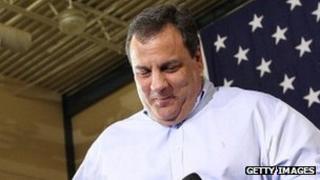 The governor of the US state of New Jersey has vetoed a bill allowing same-sex marriage just a day after it was passed by the state Assembly.
Chris Christie - a rising star in the Republican party - renewed his call for a referendum to decide the issue.
He had long vowed to veto the bill, which was passed by the state Senate on Monday.
Meanwhile, a bill legalising gay marriage was passed by the Maryland state lower legislative chamber.
The House of Delegates voted 71-67 in favour of the bill, which will now head to the state Senate.
Last year it easily cleared that 47-member body, and the governor has said he will sign it.
'People must decide'
"I am adhering to what I've said since this bill was first introduced - an issue of this magnitude and importance, which requires a constitutional amendment, should be left to the people of New Jersey to decide,'' New Jersey's Governor Christie - tipped as a possible running mate for Republican presidential hopeful Mitt Romney - said in a statement.
"I continue to encourage the legislature to trust the people of New Jersey and seek their input by allowing our citizens to vote on a question that represents a profoundly significant societal change.
"This is the only path to amend our State Constitution and the best way to resolve the issue of same-sex marriage in our state.''
His veto also proposed creating an ombudsman to oversee the state's existing civil union law, which he said would promote awareness of the law and report violations, after the state's own review commission found problems with it.
Democrats who the support the bill - who argue that gay marriage is a civil right and should not be subject to a referendum - said they were disappointed but not surprised by his veto.
The state's assembly had approved the bill 42-33.
Seven US states - New York, Massachusetts, Connecticut, Vermont, New Hampshire, Iowa and Washington state, as well as the District of Columbia - currently recognise same-sex marriage.