'Pot plane' invades President Barack Obama's airspace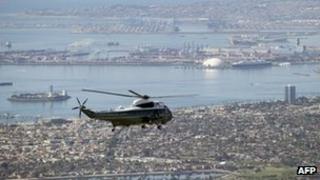 A small plane which violated presidential airspace in Los Angeles was found carrying 18kg (40lb) of marijuana.
The Cessna plane was intercepted by two F-16 fighter jets after it strayed into restricted airspace around President Barack Obama's helicopter.
It was requested to land at Long Beach Airport, officials said, where the marijuana was found.
Mr Obama was never in any danger, the Secret Service said.
The Federal Aviation Authority (FAA) notified pilots that there was a zone 13km (eight miles) wide above Los Angeles that was off limits to all air traffic on Thursday, spokeswoman Brie Sachse said.
No disruption
Mr Obama was using the White House helicopter, Marine One, to get to the affluent seaside neighbourhood of Corona Del Mar from Los Angeles for a fundraiser, reports said.
The North American Aerospace Defense Command (Norad) refused to say how close the Cessna 182 had come to Mr Obama's helicopter but reporters travelling in another helicopter close by saw no sign of disruption or an incident from the air, Reuters news agency said.
It quoted US Secret Service spokesman Ed Donovan as saying the pilot showed no intention of harming the president when he was interviewed by officials.
He was then turned over to local law enforcement.