Scuba honeymoon death man goes on trial in Alabama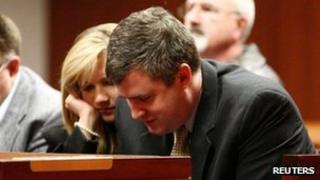 An American man accused of killing his wife on their honeymoon by shutting off her air tank while scuba diving in Australia has gone on trial in Alabama.
During opening statements in the trial of Gabe Watson, 34, defence lawyers argued that "bumbling" Australian police turned an accident into a crime.
Watson served 18 months in jail in Australia after pleading guilty to manslaughter.
He was extradited after Alabama agreed to waive the death penalty.
Watson is accused of drowning his wife Tina shortly after their wedding in 2003.
'Murder and gain'
Assistant Alabama Attorney General Andrew Arrington told jurors that the newlywed stood to gain more than $200,000 (£127,300) in insurance money if his wife died.
It was that motive, Mr Arrington said, that drove Watson to allegedly turn off the flow of air to Tina Watson's scuba mask and held her until she drowned.
"The whole case is not just about murder, but murder and gain," Mr Arrington said. "He took her engagement ring as his last act of contact with her on this earth."
As part of the opening statements, the prosecution showed the jurors an underwater photo snapped by a nearby diver, showing Watson swimming to the surface as his wife was sprawled in the water.
Defence lawyers say Tina Watson's death was misinterpreted by the Australian authorities, who took a problem with Watson's dive computer as evidence of possible guilt, and proceeded to view new evidence with that in mind.
Brett Bloomston, Watson's lawyer, sketched out a completely different scenario of what happened during the dive on the Great Barrier Reef, saying Tina Watson panicked and knocked off her husband's diving mask, forcing him to swim to the surface without her.
Mr Bloomston also denied that his client had a financial motive for killing his new wife, arguing that her life insurance policy was worth $33,000, not $165,000 and a separate travel policy had only been taken out to cover the cost of the honeymoon.
"This is a tragic case. What's even more tragic is the blame Gabe has had to live with this last number of years," he said.
Both sides agree that the dive instructor failed to follow his own rules, allowing Tina to proceed to the reef without orientation dive.
She waived the test-run and, according to Mr Arrington, Watson assured the instructor that his rescue certification would provide ample protection.