Mitt Romney narrowly wins Maine Republican caucuses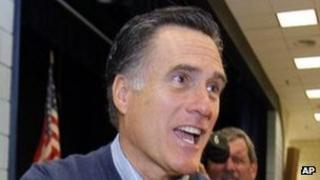 Mitt Romney has narrowly won Maine's primary caucuses in the race for the Republican presidential nomination with 39.2% of the vote.
Texas Congressman Ron Paul came second with 35.7%, while former Pennsylvania Senator Rick Santorum was on 17.7% and Newt Gingrich took 6.25% of the vote.
The Romney camp is trying to regain its momentum after Mr Santorum won polls in three states last Tuesday.
The candidates are vying to take on Barack Obama in November's elections.
Mr Santorum and Mr Gingrich both had only limited campaign activity in Maine.
Mr Paul told his supporters not to be discouraged and said the outcome had been "a virtual tie".
'Heartened'
The caucuses did not automatically decide which candidate receives Maine's delegates at the Republican National Convention in August, and the poll was largely viewed as a beauty contest, reports the BBC's Jonathan Blake in Washington.
However, Mr Romney still needed this win to avoid serious questions about his campaign, our correspondent adds.
This result will provide his candidacy with added momentum ahead of contests in Arizona and Michigan at the end of the month, he adds.
Mr Romney has previously served as governor of nearby Massachusetts and won the Maine caucuses by a much wider margin in his failed 2008 bid for the presidential nomination.
Earlier Mr Romney had received a boost at a major gathering of conservative activists in Washington.
He topped a straw poll held at the end of the three-day Conservative Political Action Conference, with 38% of the vote.
Mr Santorum came in second with 31%, with Mr Gingrich and Mr Paul on 15% and 12% respectively.
Mr Romney tweeted that he was "honoured" to have won the poll.
"I'm heartened that so many friends here agree with me about the need for conservative change," he said.
While the candidates had previously focused during the early weeks of the primary season on only one or two states at time, the upcoming schedule will see the Republican hopefuls scatter across the country in search of strategic wins.
On 6 March, popularly known as "Super Tuesday", 11 states will hold contests.
Mr Paul is targeting those states, where he believes his organisation and enthusiastic volunteer base can win him delegates.