Martin Luther King statue will be 'scarred' by quote fix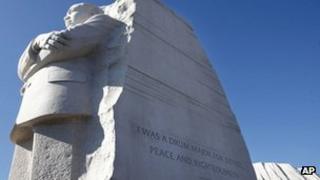 The executive architect on the newly opened Martin Luther King memorial in Washington says repairs to correct a quotation on the monument will end up "scarring it for life".
The US National Park Service has confirmed that the work will happen.
The quotation "I was a drum major for justice, peace and righteousness" was originally part of a longer sentence but was inscribed out of context.
Executive architect Ed Jackson said the work would be permanently visible.
He said the fix would require new granite which would be a noticeably different colour even if it came from the same quarry.
The work would amount to "defacing" the memorial or "scarring it for life", he added.
Asked whether there could be any way to remove the inscription, Mr Jackson replied, "without destroying it, no".
However, Secretary of the Interior Ken Salazar and the National Parks Service have announced plans to remove the inscription and replace it with the entire text of the exact quote.
"With a monument so powerful and timeless, it is especially important that all aspects of its words, design and meaning stay true to Dr King's life and legacy," Mr Salazar said in a statement on Friday.
The 30ft (9m) granite statue was inaugurated in October 2011.
'Conceited'
It lies alongside the National Mall in Washington, not far from the spot on the steps of the Lincoln Memorial where King delivered his famous "I have a dream" speech in 1963.
When the $120m (£76m) memorial was first unveiled, a Washington Post columnist noted that the quote inscribed on the side of the edifice made King sound "conceited".
Critics of the inscription have included the poet Maya Angelou, who was quoted as saying the shortened phrase made King sound like an "arrogant twit".
Investigations into the origin of the quote revealed that the complete sentence imparted a subtly different meaning.
The full quotation by King, in Memphis two months before he was shot dead there in 1968, were: "Yes, if you want to say that I was a drum major, say that I was a drum major for justice. Say that I was a drum major for peace. I was a drum major for righteousness. And all of the other shallow things will not matter."
The memorial was designed by Master Lei Yixin, a Chinese sculptor, and overseen by Mr Jackson.
He told the Washington Post in September 2011 that the decision to paraphrase the full quotation had been made by the design team in the interest of brevity.