Anonymous says attack put CIA website offline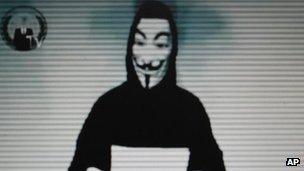 Hackers have claimed responsibility for making the CIA website inaccessible on Friday - the latest attack on a US federal agency.
A Twitter post on a feed used by hackers' collective Anonymous said "CIA Tango down", a phrase used by the US Special Forces after killing an enemy.
Anonymous said in another tweet that just because it reported a hack, that did not mean it carried out the attack.
This would not be the first time the CIA website has been put offline.
In June 2011, a group affiliated with Anonymous, Lulz Security, temporarily brought down the agency's homepage.
The CIA site remained offline on Friday evening after several hours, and a spokeswoman said the agency was looking into the reports.
Hackers usually target such websites through a denial-of-service attack, which involves bombarding the site with traffic until its servers are overwhelmed.
There is no suggestion that the security of the CIA's actual computer systems have been compromised.
Earlier this month, Anonymous managed to intercept a conference call between the FBI and British police as they discussed legal action against hackers.
And following the shutdown of the Megaupload file-sharing website last month, a statement attributed to Anonymous claimed responsibility for shutting down the websites of the Department of Justice and FBI, among others.