Uzbek man, 22, admits plot to kill Barack Obama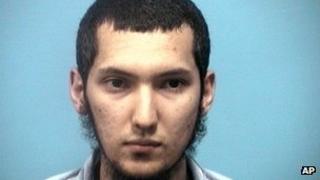 An Uzbek man has admitted at a court in the US state of Alabama to plotting to kill US President Barack Obama.
Ulugbek Kodirov, 22, who was arrested at a motel in the state last July, could face 30 years in jail.
Kodirov was charged with threatening to kill the president, possessing an automatic weapon and providing material support to terrorists.
Authorities say he was in the US illegally after he received a student visa but never enrolled at school.
According to the plea agreement, in July 2011 Kodirov came into communication with someone known as "the Emir", who he believed was a member of the Islamic Movement of Uzbekistan.
Grenades and rifle
That group has been designated as a terrorist organisation by the US state department.
Kodirov and "the Emir" discussed ways in which the president could be killed, including by sniper rifle from long distance.
Kodirov rejected that option because he thought a sniper rifle would cost too much and he was not trained to use one. Instead he plotted to shoot at the president from a closer range.
The plea deal says: "Kodirov said that he did not care if he got shot and killed, as long as he killed President Obama."
Kodirov is said to have met another man who spoke Uzbek, and sometimes went to mosque with him.
The agreement says that together they would look at extremist websites and videos, on Kodirov's laptop.
On 11 July, Kodirov asked his friend to buy him a gun so he could kill the president, saying he "knew this was what he was supposed to do for Islam".
A witness said Kodirov contacted an unnamed person, who became a government source, and bought a Sendra M115A1 automatic rifle from an undercover agent on 13 July.
The agent also provided Kodirov with four hand grenades that had already had the powder removed from them.
Kodirov was then arrested and has been held without bail since then.
The Uzbek's defence lawyers said the accused was likely to receive a lighter sentence on account of the plea deal.
Kodirov is due to be sentenced on 17 May.