US tribe sues beer makers for $500m over alcohol abuse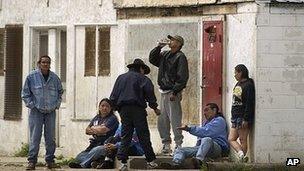 An American-Indian tribe in South Dakota has sued some of the world's biggest beer firms over severe alcohol-related issues in the community.
The Oglala Sioux Tribe are asking for $500m (£316m) for healthcare, social services and child rehabilitation.
Tribal elders say the lawsuit is a last resort after efforts to curb abuse through protests and policy failed.
On the Pine Ridge Indian Reservation one in four children suffers foetal disorders caused by alcohol abuse.
The lawsuit, filed in the district court of Nebraska, targets Anheuser-Busch InBev Worldwide, SAB Miller, Molson Coors Brewing Company, MillerCoors LLC, and Pabst Brewing Company.
There was no immediate response from those firms.
The lawsuit also names the nearby town of Whiteclay, Nebraska, which has four beer shops that sold nearly five million beer cans in 2010 despite having only about a dozen residents.
Alcohol is outlawed on the reservation and the nearest town which allows alcohol is 20 miles (32km) away, Mark Vasina, president of Nebraskans for Peace, told the Associated Press news agency.
The lawsuit alleges that beer makers and the shop owners knew the alcohol would be smuggled into the reservation for consumption or resale.
The legal documents allege: "The illegal sale and trade in alcohol in Whiteclay is open, notorious and well documented by news reports, legislative hearings, movies, public protests and law enforcement activities."
Meanwhile, Tom White, the lawyer representing the tribe, told the Associated Press news agency: "You cannot sell 4.9 million 12oz [356ml] cans of beer and wash your hands like Pontius Pilate, and say we've got nothing to do with it being smuggled."
The reservation has grappled with alcohol problems and poverty for generations, and the tribal council has said it hopes the case will help protect the community's youth.
"Like American parents everywhere, we will do everything lawful we can to protect the health, welfare and future of our children," Tribal President John Yellow Bird Steele told the Associated Press news agency.
The reservation, which is about the size of the state of Connecticut, includes Shannon County, the third poorest county in the US.
The median income in the area is $27,300 and almost half of the population is considered to be living below federal poverty standards.
The life expectancy in the community is between 45 and 52 years - the lowest in North America except Haiti - and far below the national average of 77.5 years.
Nebraska State Senator LeRoy Louden has said that after struggling with the problem for years, the state has introduced legislation that would impose restrictions - on the types of alcohol that can be sold and business hours.
Related Internet Links
The BBC is not responsible for the content of external sites.