Steve Jobs' FBI files question his honesty and morality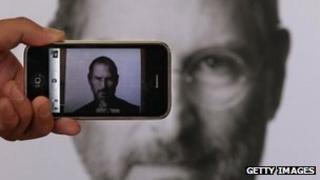 The FBI files of Steve Jobs have been released, showing a man who commanded respect as an innovator but was questioned on his honesty and morality.
The file was prepared on the Apple founder as he was considered for a presidential appointment in 1991 during George H W Bush's time in office.
Documents also revealed that Jobs had been the victim of an extortive bomb threat in 1985.
Jobs' files note, too, his conversion to Buddhism and admissions of drug use.
The documents were made public on Thursday through freedom of information laws, and posted to the FBI's website.
'Questionable character'
"Several individuals questioned Mr Jobs' honesty stating that Mr Jobs will twist the truth and distort reality in order to achieve his goals," said a summary of the FBI background check.
A former business associate who blamed Jobs because he had not received lucrative stock he thought was due to him characterised the Apple founder as an "honest and trustworthy individual; however, his moral character is questionable".
Others told the interviewer that Jobs was difficult to work with, no surprise given details of his volatile temperament that emerged in his biography last year.
The unfavourable comments gleaned during the background check did not prevent Jobs being appointed to an unpaid post advising the president on export policy.
Jobs died in October after a years-long struggle with cancer.
The interviewees' names have been redacted by the FBI, with the exception of Jobs himself.
The Apple founder admitted to experimenting with drugs, including LSD, in the 1970s.
Another interviewee spoke of Jobs' high-profile reputation within Silicon Valley.
Jobs was "not an engineer in the real sense", the source says, but "an innovative force within the technical community".