Republican Rick Santorum sets sights on Super Tuesday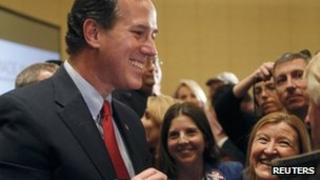 US presidential hopeful Rick Santorum has hailed his hat-trick of caucus and primary wins, saying his campaign now has crucial momentum - and more cash.
In an interview with CNN, Mr Santorum said he had raised $250,000 (£157,000) in one night, after beating Mitt Romney, Newt Gingrich and Ron Paul.
He vowed to campaign hard in states voting in February and early March, and said his team was well-organised.
On 6 March, popularly known as "Super Tuesday", 11 states will hold contests.
Arizona and Michigan will hold their primaries on 28 February.
"We think Michigan's a great place for us to plant our flag," Mr Santorum told MSNBC on Wednesday.
Multi-state campaign
The two February primaries have been seen as favourable to Mr Romney, in part because of their more moderate Republican electorates.
Mr Romney's father, George Romney, also served as Michigan's governor during the 1960s.
While the candidates had previously focussed during the early weeks of the primary season on only one or two states at time, the upcoming schedule will see the Republican hopefuls scatter across the country in search of strategic wins.
Mr Santorum began campaigning on Wednesday in Texas, meeting with religious leaders there.
Texas Congressman Ron Paul, who came second in Minnesota, is targeting Super Tuesday's caucus states, where he believes his organisation and enthusiastic volunteer base can win him delegates.
Newt Gingrich had already moved onto delegate-rich Ohio before Tuesday's vote after failing to make it onto the Missouri ballot. He also fell to fourth place in Minnesota.
The eventual nominee will face Barack Obama in November's election.
Minnesota windfall
Mr Santorum won Minnesota with 44%, of the vote, 17 points ahead of his closest rival in the state, Ron Paul. Mr Romney won 19% of the Mid-Western state's vote.
In Colorado, a state Mr Romney was favoured to win, the former Massachusetts governor lost to Mr Santorum by 5%, 40% to 35%.
While he succeeded in all three states, Mr Santorum was not allocated any delegates in Missouri, where Tuesday's result was dubbed a "beauty contest". It will actually award its delegates via caucuses held next month.
Pitching himself as the only true conservative in the race, Mr Santorum had campaigned hard in Minnesota and Missouri - states with significant blocs of Tea Party and evangelical Christian voters respectively.
Polls showed him performing well, and predicted the possibility he would win in either or both states. But while Mr Romney's team had sought to manage expectations, they still retained hopes of a Colorado victory.
The former Pennsylvania senator, who had not won a contest since his narrow win in Iowa's caucuses in January, has been viewed as a long-shot candidate.
Tuesday's victories will inject new momentum into his campaign, as he hopes to displace Mr Gingrich as Mr Romney's main challenger.
Mr Gingrich told CNN: "I think the big story coming out tonight is going to be that it's very hard for the elite media to portray Governor Romney as the inevitable nominee after tonight's over."
Long race
In a last-ditch effort to win over social conservatives ahead of Minnesota and Colorado's caucuses, Mr Romney tried to boost his credentials on being anti-abortion, pro-religious freedom and opposed to gay marriage.
Latest results

Candidates
Colorado
Minnesota
Missouri

Table ordered by Colorado results

Source: Associated Press

Santorum

40.2%

44.9%

55.2%

Romney

34.9%

16.9%

25.3%

Gingrich

12.8%

10.7%

7.3%

Paul

11.8%

27.2%

12.2%
During his first run for the Republican presidential nomination back in 2008, when he challenged John McCain, Mr Romney won in both Colorado and Minnesota.
But both states are perceived to have moved to the right since then, so doubts over his Mormon faith and political record as governor of a liberal state could have cost him votes.
Playing down the significance of Tuesday's contests, Mr Romney told supporters in Denver, Colorado: "This was a good night for Rick Santorum.
"We'll keep on campaigning down the road, but I expect to become our nominee with your help."