Obama campaign returns funds linked to Mexico fugitive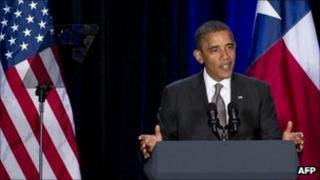 US President Barack Obama's election campaign is to return donations linked to the family of a fugitive Mexican casino magnate.
The Chicago-based brothers of Juan Jose Rojas Cardona, known as Pepe, raised some $200,000 (£126,000) for Mr Obama.
Pepe Cardona fled the US in 1994 and is now seeking a pardon for drug and fraud charges, the New York Times reports.
Meanwhile, Mr Obama is to allow a pro-Democratic fundraising group to raise unlimited cash to back his candidacy.
Mr Obama's official campaign war-chest is healthy - with some $81m cash in hand at the end of 2011 - but relies on small donors.
Campaign officials have said that most donors give $250 or less, with an average donation of $56.
Suspicion of murder
The report in the New York Times detailing the Cardona donors' continuing links to their fugitive brother prompted a swift reaction from the Obama 2012 campaign.
US politics glossary
Use the dropdown for easy-to-understand explanations of political terms:
Air war
The battle between candidates to get as much advertising on television and radio as possible. In recent years, online adverts, which are cheaper and can be more carefully targeted, have grown increasingly important.
"On the basis of the questions that have been raised, we will return the contributions from these individuals and from any other donors they brought to the campaign," said Ben LaBolt, a spokesman for the Obama campaign.
He said the campaign "constantly" reviews contributions received and said that more than 1.3 million Americans have donated so far.
According to a leaked US state department cable from 2009, Pepe Cardona - now based in Mexico's Monterrey region - was suspected of orchestrating the murder of a business rival.
After the rival's death, Pepe Cardona became the largest operator of casinos - often used to launder illicit profits - in the area.
Last year, according to the New York Times, his Chicago-based brothers Carlos and Alberto Rojas Cardona arranged for the former chairman of the Iowa Democratic Party to seek a pardon for him from the governor.
However, no pardon was reported to have been forthcoming.
Late last year the Cardona brothers began donating to the Obama re-election campaign and to the Democratic National Committee (DNC), the New York Times reported.
They gave donations of $38,000 each to the DNC and more to the election campaign itself, putting them high on a list of so-called "bundlers" who make large campaign contributions.
Speaking on cable network MSNBC on Tuesday, presidential adviser David Axelrod said that while the Cardonas brother were not the "guilty party", the vetting process "didn't go deep enough".
'Two sets of rules'
The decision to hand back the Cardona donations came as it emerged that the president had given his personal backing to Priorities USA, a so-called "super PAC" (political action committee).
Obama aides, campaign officials and some government members will be allowed to speak at Priorities USA events, the Obama campaign said.
The decision is aimed at countering what the Obama campaign sees as a key financial advantage for the president's Republican rivals.
A 2010 Supreme Court ruling allows super PACs to raise unlimited cash to support a candidate, as long as they do not co-ordinate activities with the candidate's campaign.
Presidential front-runner Mitt Romney's official campaign has seen a pro-Romney super PAC, Restore Our Future, spend heavily on negative advertising during the primary season. Newt Gingrich's cash-strapped campaign has been kept alive by money donated to a pro-Gingrich super PAC, Winning Our Future.
Two super PACs set up by former President George W Bush's aide, Karl Rove, raised some $51m in 2011 to spend on upcoming 2012 battles.
Although Mr Obama has previously decried the influence of money in politics, Democratic super PACs have raised little cash so far.
In an email to supporters on Monday night, Obama campaign manager Jim Messina said the Democrats would "not play by two sets of rules" in the upcoming election.