Twitter sees record activity during 2012 Super Bowl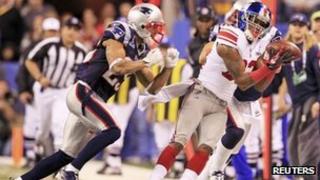 The Super Bowl XLVI set a record for the highest number of tweets sent during a sporting event.
On average, 10,000 tweets were sent per second during the final three minutes of the New York Giants' 21-17 defeat of the New England Patriots, Twitter said.
Activity peaked during a last-minute Giants touchdown, when 12,233 messages were sent per second, it added.
The previous record had been set when the Denver Broncos beat the Pittsburgh Steelers in the 2012 NFL playoffs.
Madonna's half-time performance at this year's Super Bowl also saw a surge of activity online.
Her show sparked the second highest rate of tweets during the event, with 10,245 posts published per second, said Twitter, a San Francisco-based micro-blogging site.
Television networks in the US appear to be embracing the trend of viewers watching programmes whilst engaging with social media.
Viewers are encouraged to use specific "hashtags" when referring to a particular programme online.
NBC, the US network that hosted the Super Bowl, claimed this year's game attracted the third highest viewer ratings in the history of the event.
Overnight viewing figures showed a 47.8% audience share. The total number of viewers is not yet available.
This year the Super Bowl was also streamed online for the first time.
The all-time record for Twitter activity - with 25,088 posts being published per second - was reportedly set during a TV screening of the Japanese animated film "Castle in the Sky" in December 2011.
Among other events which have attracted unusually high levels of activity on Twitter are the singer Beyonce's announcement that she was pregnant and the death of Apple co-founder Steve Jobs.