Muhammad Ali trainer Angelo Dundee dies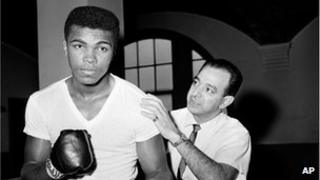 Renowned boxing trainer Angelo Dundee has died at the age of 90.
Dundee, who helped train Muhammad Ali and Sugar Ray Leonard, passed away in Tampa, Florida, his son Jimmy told the Associated Press.
"It was the way he wanted to go," he said. "He did everything he wanted to do."
Introduced to the world of boxing after World War II by his brother, a promoter in New York, Dundee began working with Ali - then Cassius Clay - in 1960.
Dundee had attended Ali's 70th birthday party in Kentucky last month.
The pair's working relationship had been famously close, unaffected by the controversy caused by Ali's conversion to Islam and his refusal to serve in Vietnam.