LA teacher held for gagging and blindfolding children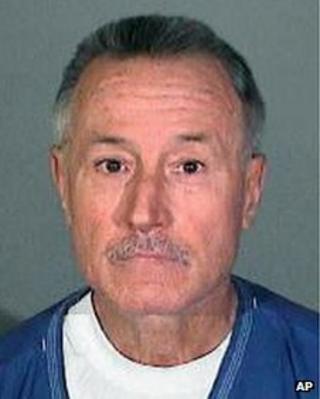 A Los Angeles teacher has been accused of binding and gagging nearly two dozen children and putting live cockroaches on some of their faces.
Mark Berndt, 61, allegedly committed lewd acts with 23 children under the age of 10 between 2008-10.
Police said a photo developer raised the alarm after being handed about 40 pictures of blindfolded children.
In some of the photos, the accused had his arm around the children or was covering their mouth with his hand.
Police suspect some of the images could have been taken inside a classroom.
"It makes you sick to your stomach,'' Los Angeles Unified School District Superintendent John Deasy told KTTV Fox 11 News.
Mr Berndt, who had worked at the south Los Angeles school for more than 30 years, was arrested on Monday and is being held on $2.3m (£1.5m) bail.
Police discovered more than 100 other photographs of children when they searched the accused's home.
They also discovered a DVD depicting adult sexual bonding activity - although these images are legal.
Police did note, however that the scenarios in the DVD "mirrored the bondage-type photos of the children''.
Police are still trying to identify about 10 children.
No student came forward to report the abuse.