Paper clip root canal leads to jail for US dentist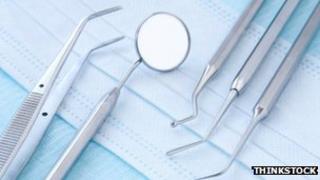 A Massachusetts dentist who inserted paper clips while carrying out root canal work has been jailed for a year.
Dr Michael Clair had already pleaded guilty to several charges, including assault, witness intimidation and defrauding the state's Medicaid programme of $130,000 (£82,660).
Some of his patients reported tooth infections and other health problems.
He is no longer allowed practise dentistry in any state, according to the Massachusetts attorney general.
Clair inserted sections of paper clips instead of the metal posts usually used for root canal surgery, prosecutors said, apparently in a bid to save money.
Prosecutors asked for a sentence of between five and seven years, but Judge Richard Moses said he took Clair's lack of a previous criminal record and an unspecified mental health issue into consideration.
Judge Moses also granted a request that the dentist stay away from his victims and former employees.
Assistant Attorney General Toby Unger told the Associated Press that Clair's former staff had "expressed concern for their safety".
Prosecutors said Clair was suspended by Medicaid, a government-funded health programme in 2002, but continued to file claims using the names of other dentists in his practice.