US citizens seek refuge at Cairo embassy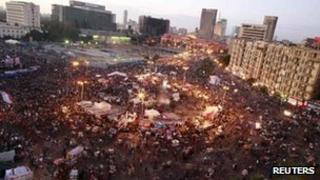 A group of US citizens has taken refuge at the US embassy in Cairo amid an Egyptian crackdown on foreign-funded pro-democracy groups.
Egypt's ruling military council has accused foreign groups of funding street protests against them.
At least 10 foreigners, including six Americans, are barred from leaving Egypt while they are investigated.
They include the son of US Transport Secretary Ray LaHood, but it is unclear whether he is in the embassy.
The US confirmed that a "handful" of citizens were staying in the embassy while waiting for permission to leave the country.
But state department spokeswoman Victoria Nuland said there was no expectation that they were trying to avoid legal processes.
She said it was "a unique situation" but that there were no concerns for the Americans' safety.
"They approached the embassy staff and the decision was made to invite them as guests," she said.
White House spokesman Jay Carney said the US had made its concern and disappointment clear to the Egyptian authorities and was working with them to resolve the issue.
Aid jeopardy
The imposition of the travel ban followed a raid by the Egyptian authorities in December on democracy groups that receive foreign funding. The groups were alleged to lack the proper permits to operate and are now the subject of a criminal investigation.
The organisations affected include the International Republican Institute - where Sam LaHood was working - and its sister group, the National Democratic Institute.
Both of the bodies, which receive US public funding and have links with the Republican and Democratic parties, had monitored Egypt's recent parliamentary elections.
Cairo's action was widely considered to be an attack on free speech and an attempt by the Supreme Council of the Armed Forces' (SCAF) to silence critics of its attempt to put down ongoing street protests.
In a weekend call to Field Marshal Hussein Tantawi, head of Egypt's ruling military council, US Defense Secretary Leon Panetta urged him lift the travel ban, the Pentagon said.
Washington has warned it could review US aid to Egypt's military, about $1.3bn (£826m) annually, unless it respects non-governmental groups.
US President Barack Obama raised the issue with the field marshal earlier this month during a call, when he also discussed Egypt's request for a $3.2bn loan from the IMF.