United States country profile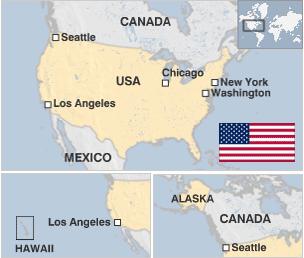 The USA is the world's foremost economic and military power, with global interests and an unmatched global reach.
America's gross domestic product accounts for close to a quarter of the world total, and its military budget is reckoned to be almost as much as the rest of the world's defence spending put together.
The country is also a major source of entertainment: American TV, Hollywood films, jazz, blues, rock and rap music are primary ingredients in global popular culture.
The United States originated in a revolution that separated it from the British Crown. The constitution, drafted in 1787, established a federal system with a division of powers that has remained little changed since its inception.
United States of America
Capital: Washington, DC
Population 316 million

Area 9.8 million sq km (3.8 million sq miles)

Major language English

Major religion Christianity

Life expectancy 76 years (men), 81 years (women)

Currency US dollar
Democrat candidate Joe Biden defeated Republican President Donald Trump to win the presidency in the 2020 election. A former vice-president with decades of experience in Congress, Mr Biden campaigned on a platform of promoting national unity after the divisive presidency of Mr Trump, a right-wing businessman, and re-engaging with international diplomacy.
The US has the most highly-developed mass media in the world. Its dramas, comedies, soaps, animations, music videos and films have a global audience and are staple fare for broadcasters worldwide.
Television is the most popular medium, although the amount of content consumed via live broadcast TV is falling as video-on-demand platforms flourish.
The US is the home of the internet, and access is unrestricted.
1565 - First permanent European settlement in North America.
17th-18th centuries - Hundreds of thousands of Africans brought over and sold into slavery to work on cotton and tobacco plantations.
1775 - American Revolution: George Washington leads colonist Continental Army to fight against British rule.
1787 - Founding Fathers draw up new constitution for United States of America.
19th century - Residual resistance by indigenous peoples crushed as immigration from Europe assumes mass proportions, with settlers moving westwards.
1861-1865 - US Civil War: Federal forces defeat the Confederate pro-slavery states in the South. Slavery is abolished.
1929-33 - Some 13 million people become unemployed after the Wall Street stock market crash triggers what becomes known as the Great Depression.
1941 - Japan attacks the US fleet at Pearl Harbour in Hawaii, precipitating the US entry into World War Two.
1954 - Racial segregation in schools becomes unconstitutional; start of campaign of civil disobedience to secure civil rights for Americans of African descent.
2001 - Co-ordinated suicide attacks on various high-profile targets by the al-Qaeda jihadist group, prompting the US to embark on a ''war on terror'' that includes the invasion of Afghanistan and Iraq.
2008 - Barack Obama is elected the first black president of the United States.
2016 - Reality TV host and property tycoon Donald Trump regains the presidency for the Republicans on a populist platform.
Related Internet Links
The BBC is not responsible for the content of external sites.