Financier Allen Stanford denies fraud as trial begins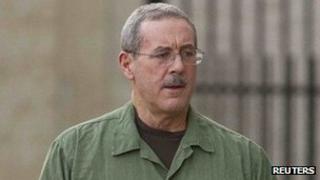 A Texas financier has pleaded not guilty to 14 counts of fraud and money laundering on the first day of his trial in Houston, Texas.
Allen Stanford is accused of defrauding investors of $7bn (£4.5bn) through a Ponzi scheme out of his bank in the Caribbean island of Antigua.
But his defence team says that the 61-year-old never intended to defraud anyone.
If convicted, Mr Stanford could be sentenced to up to 20 years in prison.
It is alleged that Mr Stanford used his investors' funds to fuel an extravagant lifestyle that included owning houses and yachts, and sponsoring cricket matches.
Prosecutors say Stanford International Bank used the money raised from selling fraudulent certificates of deposit to pay off maturing contracts, and to support Mr Stanford's other business ventures.
Among them were other banks, a brokerage that sold the certificates of deposit, an airline, cricket grounds and restaurants.
Prosecutors also say that Mr Stanford, as well as three of his former executives, fabricated company documents and bribed officials in Antigua to cover up their illegal activities.
But Mr Stanford, who once had an estimated net worth of more than $2bn, argues that his businesses were legal.
His defence lawyers - the fifth legal team to represent him since he was indicted - say that Mr Stanford's investors would have been paid if his companies had not been seized by the authorities.
They say investors only lost their money once the US government seized his businesses, destroying their value.
He has been held in custody for two and a half years because of fears he would attempt to flee. The trial is expected to last around six weeks.
Three other former executives are also awaiting trial in Antigua and face charges from the US Securities and Exchange Commission in Dallas, Texas.
Mr Stanford once landed in a helicopter at Lord's cricket ground in London and secured a lucrative series of matches between the England team and his Stanford superstars.