Republican Mitt Romney 'to release tax returns'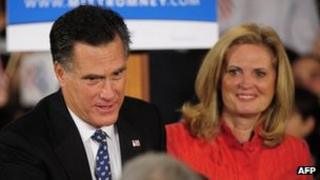 US Republican presidential hopeful Mitt Romney has said he will release recent tax returns on Tuesday.
Mr Romney, the early favourite in primary elections, appeared embarrassed during the South Carolina campaign by the issue of how much tax he paid.
Last week he said he in effect paid 15%, less than most wealthy Americans.
Newt Gingrich won the South Carolina primary on Saturday by an unexpectedly wide margin, beating the former Massachusetts governor by 40% to 28%.
The candidate winning South Carolina has gone on to win the Republican nomination in each election since 1980.
Two other candidates, Rick Santorum and Ron Paul, polled 18% and 13% respectively.
'Full fair taxes'
Speaking on Fox News Sunday, Mr Romney said the question of tax had become a distraction for his campaign, and he wanted to re-focus on the main issues.
"I will release my tax returns for 2010, which is the last returns which were completed, on Tuesday of this week," he said.
"And I will also release at the same time an estimate for 2011 tax returns."
"I know people will try and find something, but we pay full fair taxes and I'm sure people will find it's a substantial amount," he added.
Correspondents say Mr Romney has campaigned on the strength of his success as an entrepreneur, but as a wealthy patrician figure he is regarded negatively by some conservatives.
He is a multi-millionaire with three homes and lives mainly on income from his investments, for which only 15% tax is payable.
He has been criticised for describing payments totalling $373,000 (£240,000) in a year for paid speeches as "not very much" money.
Mr Romney had led the Republican field since November and appeared to have won the first two contests of the campaign, in Iowa and New Hampshire.
But the Iowa caucus result was overturned in a recount which gave a narrow victory to Mr Santorum.
Battleground state
South Carolina primary results

Source: SC State Election Commission


See the latest delegate count

Gingrich

40%

Romney

28%

Santorum

17%

Paul

13%

2,116 of 2,129 precincts reporting
And Mr Gingrich, who polled poorly in both Iowa and New Hampshire, appeared to find his stride in South Carolina, attacking Mr Romney over his business and tax records.
BBC North America editor Mark Mardell, in South Carolina, says a Gingrich win is important, because all along the story of this race has been the search by conservatives for an alternative to Mr Romney.
It is just possible they have settled on Mr Gingrich, and at the very least such a result will puncture the sense that eventually Mr Romney will triumph, our correspondent adds.
The contest for the next state, Florida, is now seen as crucial, being a major battleground state in the US general election, with a diverse electorate and where a lot of money will be spent campaigning.
Primaries and caucuses will be held in every US state over the next few months to pick a Republican nominee before the eventual winner is anointed at the party convention in August to take on Democratic President Barack Obama in November.